Ex-premier Brumby to head anti-dumping inquiry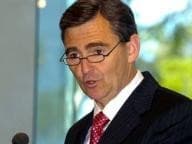 The federal government has appointed former Victorian Premier John Brumby to investigate whether Australia should establish a specialist agency to combat the "dumping" of cheap imports.
Dumping occurs when goods are exported to Australia at a price below the domestic price in the country of export.
Manufacturers feeling the pressure of a strong Australian dollar and unions have been demanding tougher laws to deal with foreign companies selling their products in Australia at below cost price.
Announcing the new appointment, Home Affairs Minister Jason Clare said Mr Brumby would investigate whether the country needed an "anti-dumping" agency to investigate complaints.
Mr Clare has asked Mr Brumby to advise on the best structure for administering Australia's anti-dumping system.
"I am interested in investigating the benefits and costs of a stand-alone anti-dumping agency," he said. "Because this is such a specialised task, there may be real benefits in establishing a specialist agency."
Mr Clare said Mr Brumby - who is also conducting a review of GST arrangements for the government - brought "formidable public policy experience" to inquiry.
"He understands economic issues deeply, having served as both the Premier and Treasurer of Victoria over the course of a decade," Mr Clare said.
He will be supported by a secretariat in the Attorney-General's Department and is expected to present his findings by November 30.
The Australian Industry Group welcomed the move.
AiGroup chief executive Innes Willox said creating a specialist agency would help ensure local companies' complaints are properly investigated.
"The establishment of a properly resourced and stand-alone anti-dumping authority may help address some of industry's continuing concerns, some of which relate to the skill levels of Customs officials and their ability to get to the heart of dumping claims," Mr Willox said.
However, Coalition industry spokeswoman Sophie Mirabella said Mr Brumby's inquiry was a "shameful waste".
"This is just another excuse to give a Labor mate a job," Ms Mirabella said.