Published 27-05-2021
| Article appears in June Issue
Ex-PM Howard backs Australian Made Week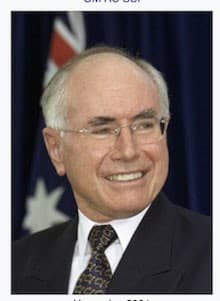 Former prime minister John Howard has voiced his support for the inaugural Australian Made Week, which runs from May 24 to 30. He said the week highlights the importance of Australia's manufacturing industry and celebrates its success.
After a challenging year for many Australian businesses, the initiative aims to recognise and support local makers and growers around the country. When people buy Australian Made products, they create jobs, now and into the future, and support thousands of Australians throughout the supply chain.
Shoppers are being called on to buy genuine Aussie products bearing the green-and-gold kangaroo logo.
Mr Howard said: "The Australian Made Campaign promotes the excellence and achievement of Australian products and services. It draws attention to how successful our country has been and how competitive it is in so many areas with the rest of the World.
"The pandemic has highlighted the need for local self-sufficiency, where this makes sense. The Campaign is very much part of this. I supported it strongly when I was Prime Minister and hope that the initiative being launched now is successful."
According to recent Roy Morgan research, if every household spent an additional $10 a week on Australian Made products, it would inject an extra $5 billion into the economy each year and create up to 11,000 jobs.
Australian Made Chief Executive Ben Lazzaro said Australian Made Week was a great time to focus on the benefits of buying local and is encouraging shoppers to make a conscious effort to seek out products carrying the Australian Made kangaroo.
"When you buy Australian Made, not only are you getting products made to some of the highest standards in the world, you create jobs, now and into the future, and support thousands of Australians throughout the supply chain," Mr Lazzaro said.
"Manufacturing is an essential part of our economy. Every Australian Made product purchased directly supports a sector of 900,000 people and thousands of businesses across the supply chain. One job in manufacturing produces three to four jobs in other parts of the economy."
Consumers can learn more about Australian Made Week and find genuine Aussie products at www.australianmadeweek.com.au.