European style and function combine in elegant architectural door partnership between Boon Edam and Gilgen brands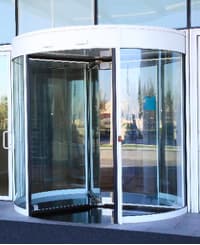 European style and function combine in elegant architectural door partnership between Boon Edam and Gilgen brands
Two of Europe's leading top quality architectural door brands, Boon Edam and Gilgen, have combined in a partnership in Australia that will bring building specifiers here wider choice and more service from the one source.
Boon Edam is one of the world's foremost manufacturers of architectural revolving doors and complementary security entrances, with sales to Fortune 500 companies in 27 countries.
Gilgen – represented in Australia by distributor Access Entry – is similarly an internationally successful supplier of its automatic doors and gates which seeks to exceed conventional industry standards in development, production, assembly and service.
Boon Edam Australia Managing Director Michael Fisher and Access Entry Managing Director Richard Whitfield say both companies are focusing on customer needs in this partnership.
"We are both deeply service oriented and seek to make the selection, installation and commissioning process as smooth as possible for our clients," Mr Fisher said.
"Both of us appreciate that there are different needs in different parts of the facilities that will emerge in the drive towards quality and security over the coming decade, so we seek to make the choices far smoother than it usually is when more limited suppliers are proposing only one solution to multiple issues."
"The emerging markets for premium presentation and functionality will be discriminating and thorough in their entrance choices. Boon Edam has one of the world's most comprehensive ranges of entrance solutions, and with our partnership with Gilgen, we are putting the specifier's needs first."
The partnership will deliver architects, builders, façade consultants, fabricators, facility managers and specifiers enhanced access to the global ranges of complementary door systems, so they can obtain from one co-ordinated source revolving doors, security entrances, and automatic and sliding doors where required.
The partnership between 149-year-old Boon Edam and Gilgen – which recently celebrated 60 years of international sales and more than 20 years in Australia – mirrors a similar partnership between the two brands in Europe.
"Among many other benefits, it will enable specifiers to better serve expanding markets post Covid, which will be more concerned than ever before about controlling access and egress to and from facilities and governing who may use them and who poses health or security issues," Mr Fisher said.
"Boon Edam and Gilgen offer complementary comprehensive ranges of touchless entry solutions, designed to make entry simpler, more user-friendly, and more hygienic."
"This is particularly important in financial and data centres, for example, and public facilities such as hospitality, health and age care where it will be more important than ever to regulate threats at the front door and ensure that virus protection and visitor spacing measures are observed."
"The combined range of entry solutions is also eminently suited to clubs, pubs, hotels and hospitality venues seeking hygienic, touchless entrances that also allow for better climate control and reduced strain on HVAC systems."
"Both Access Entry and ourselves have considerable expertise in these areas, and a reputation for service that makes the job easier and more effective by selecting the right design of doors for exterior and interior use."
"As part of our new partnership, Boon Edam and Gilgen are collaborating on market offerings that make product specification, cost calculation and project communication even easier for architects, façade consultants, fabricators and building specifiers."
Boon Edam produces the revolving door entrances for some of the world's most prestigious fortune 500 companies and for some of the world's top hotels and leading health facilities, particularly in the USA and Europe, where such entrances are valued because of their form and function, making impressive design statements while achieving energy efficiency, comfort and protection from airborne hazards including man-made pollution and natural allergens.
Their functionality is achieved by their "always open, always closed" design principle, which conserves energy by excluding excessive heat or cold and allows HVAC systems to do their jobs better.
Both Gilgen and Boon Edam are introducing to Australia new designs for general and specialist markets, such as Boon Edam's new Circleslide design, for example, with curved automatic sliding doors that elegantly cater to the access needs of people with a disability, or those that require mobility aids