ETHERNET I/O MODULES ARE KEY TO REMOTE MOTOR MONITORING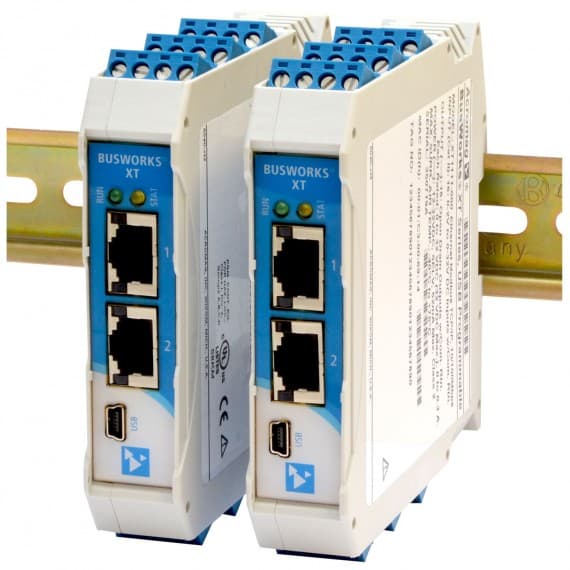 Acromag and NK Technologies have come together to create an elegant solution for remote monitoring of motors used in manufacturing processes. The approach combines current sensing transducers from NK Technologies with Acromag Ethernet I/O modules.
The current sensing transducers offer a simple method for measuring motor bearing wear. (As the bearings begin to wear, the motor has to work harder, and this results in a measurable increase in the current drawn by the motor.) Therefore, by installing a current sensing transducer on any of the wires that supply power to the motor and interfacing the measurements to the control system, any motor stress can be identified before it becomes a problem.
However, there are many cases where the motors are not mounted anywhere near the process controller. This is where the Ethernet I/O modules come in.
Acromag's BusWorks XT Ethernet I/O modules are ideal for interfacing collected sensor data to a remote PLC, computer or Scada system across a distributed network. BusWorks XT1210 models can interface eight current inputs whereas the XT1220 models offer eight voltage inputs. The I/O modules convert the sensors' analogue output signals to digital data for Ethernet messaging to the control system using Modbus/TCP, Ethernet/IP or Profinet communication protocols.
System controllers can retrieve the data from the remote I/O modules across long-distance networks or from hazardous locations for continuous monitoring of the motor's current draw. The I/O modules act as slave units ready for polling by a network master. Alternatively, peer-to-peer communication between two I/O modules can also be used to reproduce the analogue signals over any Ethernet medium without a controller for interfacing to a remote display, recorder, or other instrumentation.
A PLC or networked computer can create an initial profile of the motor's current draw under load. The maximum current draw level establishes the upper control limit. Using this upper limit, the control software is programmable to issue alerts if the motor current draw exceeds the upper limit for a sustained period.
Acromag is represented in Australia and New Zealand by Metromatics.
Metromatics
07 3868 4255
www.metromatics.com.au