ESAB LAUCHES REBEL, A MULTI-PROCESS WELDING SYSTEM
05-10-2017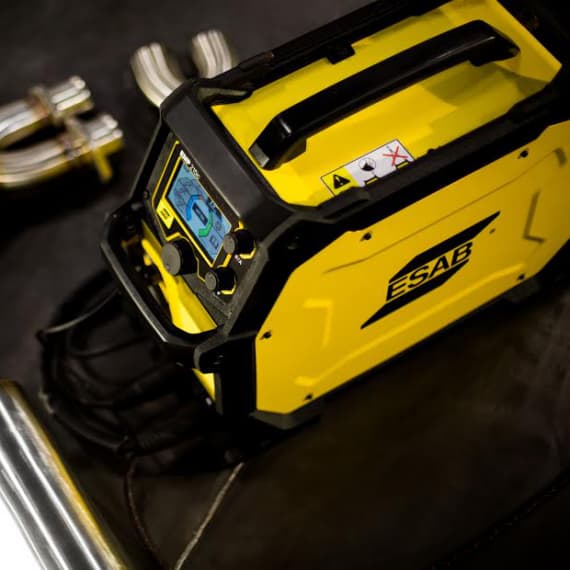 ESAB has introduced the Rebel EMP 215ic, a 230V-120V, CC/CV welding system that offers true multi-process arc performance, location flexibility, lightweight portability and a groundbreaking operator interface.
A unique sMIG ("smart MIG") function enables users to begin MIG welding – with an extremely stable arc – just by setting metal thickness and wire diameter. Unlike competitive units, there is no need to enter information for shielding gas mix.
The Rebel provides an industrial quality arc for MIG, flux-cored, Lift TIG and Stick welding, including excellent performance with difficult-to-weld E6010 electrodes. In fact, ESAB encourages side-by-side weld test comparisons and believes that the Rebel will provide a superior experience for welders of all skill levels.
The Rebel has two operating modes, Basic and Advanced, that make welding easy for beginners or lets those with more experience fine tune parameters.
Operators interact with the Rebel using a unique control that combines traditional weld parameter adjustments with the functionality of a smart phone (in fact, the 4.3in color display uses the same thin-film transistor (TFT) LCD technology found in smart phones). No other welder combines this level of simplicity, performance and control.
The Rebel accepts 100 and 200mm diameter wire spools, runs 0.6 to 1.0mm diameter wires and enables users to run on 230V to 120V primary power. The Rebel weighs 18kg, measures 584 x 229 x 406mm and features a five-handle roll cage and unibody construction that integrates the front, back and top panels to provide superior durability for protecting internal components.
When connected to 230V primary, the unit provides a MIG output of 20 to 220A, a Stick output of 30 to 180A and a TIG output of 5 to 240A. Applications include auto repair and restoration, maintenance and repair, mechanical contractors, light construction, farm and agricultural, training facilities and sheet metal/HVAC.
The unit comes ready-to-weld for MIG and TIG welding processes. ESAB includes a professional-grade MXL 200 MIG torch, electrode holder and return cable kits (3m), a 4.5m gas hose with quick connection to the machine, 200mm Aristorod 12.50 0.8mm wire spool and contact tips and drive rolls for wires between 0.6 and 1.0mm wire.
"The Rebel EMP 215ic is the most incredible go-anywhere, weld-anything machine on the market. Users have to experience this machine to believe just how good it is," says Martin Freibergs, Product Business Manager – Arc Equipment, ESAB Europe.
The Rebel offers outstanding all-process arc performance because we enhanced the control algorithms from our industrial systems such as the Warrior and Aristo, gathered input from real world welders and then incorporated that knowledge into the Rebel design."