Safety in the Workplace, Product News
Published 16-02-2021
| Article appears in February 2021 Issue
Environmental spill kit must be ready at all times
A fire extinguisher must be ready at all times – that's why we get them checked and serviced by a professional.
Similarly, an environmental spill kit must be ready at all times. When was the last time you had yours checked or serviced by a professional?
Supporting Australian companies for 25 years, Absorb Environmental Solutions pride themselves being technically rigorous and responsive to clients' needs by providing world class environmental solutions.
They understand your time is valuable, so they can take care of servicing your environmental spill response kits and allow you to demonstrate that you are meeting your environmental due diligence.
Absorb's Spill Kit Service Program was designed to provide comprehensive supply, auditing and management of spill kits across your entire site, ensure your duty of care is maintained and to promote compliance with Environmental Legislation.
Regular quarterly servicing of your spill kits will reduce your environmental risk from any liquid spill incident by keeping your resources maintained.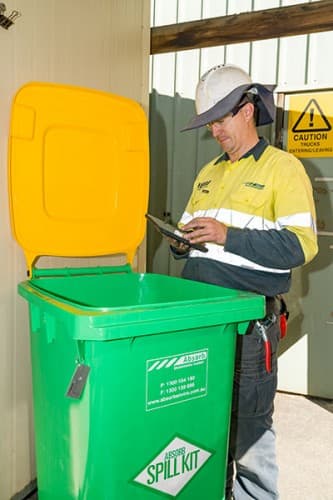 Also included is an electronic report of the usage for each kit and spill inventory across your entire site assisting you to monitor the usage and implement strategies to minimise excessive absorbent use over time.
As part of the Spill Kit Service Program, kits are re-stocked without delay, you pay no freight costs on the re-stock items, the serviceability and appearance of the kits is maintained at optimum levels and sound advice from trained and qualified staff on any issues with Environmental Compliance and Spill response Products.
Not only do Absorb run a quality service program, but they also supply the environmental spill kits themselves.
There are three typical wheelie bin kits. They are for oil and fuel for hydrocarbon spills on land, Hazchem for hazardous or dangerous liquids, and general purpose kits for non-hazardous liquids such as paint.
Other specialised kits are available for marine applications as well as vehicles and body fluid incidents.
Each kit includes absorbent pads to mop spills on flat surfaces, loose granular absorbent to soak up spills on rough surfaces, containment booms to prevent liquid spills from spreading or entering stormwater drains, and disposal bags to allow clean-up of spent absorbent.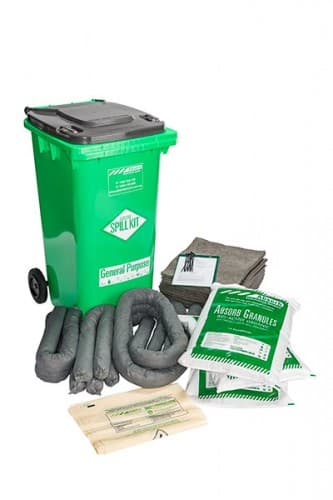 Absorb provides a wide range of training programs for each type of kit to safely and effectively eliminate spills. They also run programs to train senior management and a Diploma of Environmental Management course via virtual delivery.
The most popular spill response course, Absorb Plus, consists of one hour of theory followed by one hour of practical spill simulation exercises.
Absorb Environmental Solutions has offices and depots in Brisbane, Sydney, Melbourne, Townsville and Perth. They provide products, services and training to all Australian states and territories.
The Spill Kit Service Program includes:
Programmed Spill Kit inspection on site.
Maintenance and on the spot re-stock of kits which have been used 
Reporting on individual Kit usage.
All Spill Kits are fitted with a maintenance tag which is stamped to record the date of each visit.
Sound advice from trained and qualified staff on any issues with Environmental Compliance and Spill response Products.
Comprehensive supply, auditing and management of spill kits across your entire site
The number and type of spill kits required per business is entirely dependent on each individual site. Absorb can provide advice on ideal spill kit location.
Environmental legislation requires businesses to fulfil their duty not to harm the environment. This means they must take all reasonable practicable measures to prevent environmental harm occurring.
This will include having appropriate measures to prevent accidental liquid spills contaminating the environment via the storm water system. Spill kits are considered to be an essential tool to achieve this.