ENTRY-LEVEL BAKERY WRAPPER INTEGRATES PICK-AND-PLACE ROBOT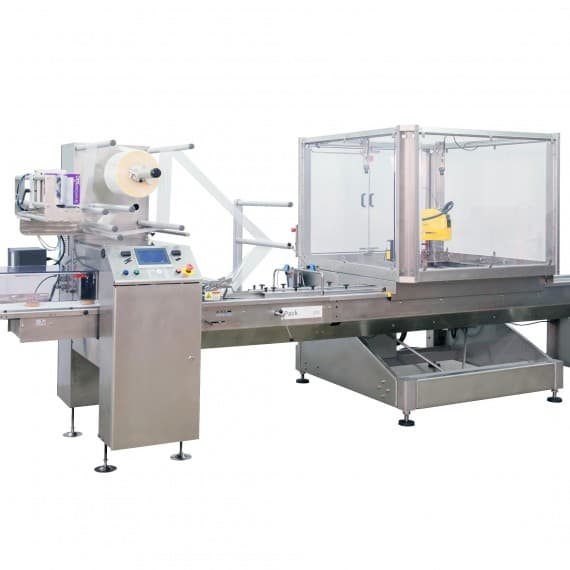 Bosch Packaging Technology has developed an entry-level packaging system incorporating light automation that is ideal for small to medium-sized bakeries and similar companies. It will showcase its Pack 102 horizontal flow wrapper using a Fanuc Scara robot at the International Baking Industry Expo in Las Vegas, USA in September.
"Visitors will experience a cost-effective solution," Bosch Packaging Technology Product Manager Kelly Meer says. "Even for an entry-level stage, robotics can be an option. We have a lot of experience in implementing robots into our proven flow wrappers."
The system is versatile and is able to wrap products of various sizes, such as cookies, crackers, croissants and other baked goods. It features a corrosion-resistant, stainless-steel design for easy cleaning. The Fanuc robot runs without interruption and is able to carry out 50 picks per minute. Up to three robots can be included in a system, allowing production of up to 150 packages per minute.
The robot picks the products directly from two baking trays where about 15 cookies are placed on each baking sheet. It takes the individual cookies off the sheet and places them into the flow wrapper's infeed chain. Vision is used to find and place the products reliably into the infeed. When a product is broken, the robot is able to detect it and will not pick it up. As a result of vacuum technology, products are handled very gently as they are picked from the baking sheets.
"As soon as one tray is emptied, the robot automatically switches to the second tray, making sure that the process runs smoothly without interruption," Meer says. "This kind of automated solution helps to reduce repetitive motions for operators and offers new options for smaller companies who struggle with labour reliability or who want to accelerate their production process."
Bosch works closely with its customers to find the perfect picking strategy. This is especially important when the product characteristics or production conditions are more challenging, for example, sticky products or humid production facilities. Pick tests with customers' products help solve the challenges. At times, Bosch's experts visit customers' sites to inspect the environment of the packaging facility.
"We have over 20 years of experience with integrating robots into our systems," Meer says. "We not only make sure to find the ideal solution for the specific product application; we also take care of all safety requirements and provide a full integration into our flow wrappers."
The controls for both the flow wrapper and the robot are integrated into one HMI, ensuring that machine operators have one central place to make all adjustments including speed, picking heights and other parameters.
Bosch Australia
03 9541 5555
www.bosch.com.au