Published 18-06-2020
| Article appears in June 2020 Issue
ENMIN OFFERS STRONG RETURN ON INVESTMENT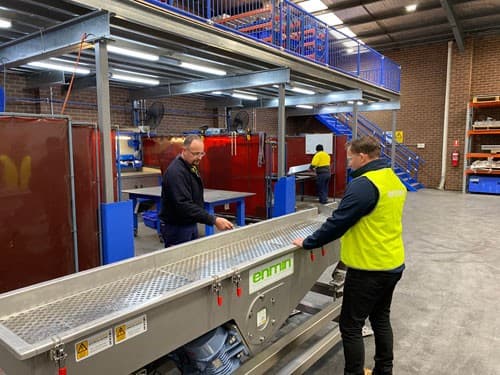 For more than four decades, Australia's leading food industry manufacturers have turned to Enmin for custom vibratory and material handling solutions for myriad applications and environments.
The Victorian company's vast knowledge and top-shelf expertise in the area has seen their list of customers grow and grow since their inception.
The Enmin range of product handling and vibratory equipment includes the revolutionary Mi-CON modular conveyor – the first ever hygienically-designed full wash-down system to offer multiple standardised components – and an extensive range of hopper feeders and screeners, spiral conveyors, conditioning conveyors and more.
Enmin's general manager Anthony Gallaher says the company's attention to detail in the design and construction stages make all the difference.
"All our products are designed and constructed first and foremost to meet the rigorous requirements of the food and pharmaceutical industries, such as maximum hygiene, ease of cleaning, and the reliability essential to meet the demands of continuous 24/7 operation," he says.
Over the years, Enmin has earned an enviable reputation for the highest standards of design and construction of its equipment using the finest materials to provide complete reliability and longevity.
The company makes the support of other local manufacturers a priority; Enmin currently purchases 304 stainless steel, various steel and plastic machined parts, castings, coils and electrical components domestically. Their laser cutting is also outsourced to a local firm.
Gallaher says this comes with several benefits for Enmin's customers, including the ability to offer individual design and customisation, expert local advice, consistency of supply, and outstanding back-up and support.
In many cases, Enmin is the only Australian company to manufacture specific material handling components.
"We're the only company manufacturing electromagnetic drives in Australia and our many years in application experience will ensure the right drive is nominated for the tray requirements and process," Gallaher says.
With minimal moving parts, next-to-no ongoing maintenance and low energy consumption, Enmin's equipment is designed to provide years of trouble-free operation and ensure a reliable, low-cost method of product handling.
"Customisation is an important part of our business; depending on a customer's requirement we can recommend either standard equipment components or design bespoke equipment," he says.
One benefit of local manufacturing is being able to see firsthand a customer's existing production line setup to ensure seamless integration of other equipment.
"We can ensure mechanical components fit with minimal or no modifications and electrical interfaces are all talking to each other," Gallaher says.
"And of course, being a local manufacturer means we're only a quick phone call away to immediately respond to any customer query or provide service and parts support throughout Australia."
Enmin also invests heavily in R&D to provide Australian manufacturers with the latest developments in materials handling solutions and improve efficiencies.
"While lower cost equipment from overseas may initially seem an attractive proposition, it is ultimately false economy," Gallaher says.
"In the long term, delivery turnaround, the ability to work closely with us during every phase of the project combined with the quality, reliability and opportunity to easily add to or modify years later as production needs change far outweighs any price difference. In terms of return on investment, there is simply no comparison."
Additionally, Enmin has an extensive range of industrial vibrators to suit any industry that handles bulk material. The range is specifically designed to suit Australia's environment and covers a multitude of applications such as mining, quarrying and agriculture.
Enmin
03 9800 6777
www.enmin.com.au