Engineers celebrate with a bang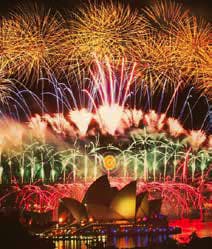 Engineers Without Borders Australia was the chosen charity for City of Sydney's New Year celebrations this year.
The not-for-profit organisation is celebrating 10 years in providing access to engineering and technology that meets basic human needs.
Lizzie Brown, Engineers Without Borders Australia CEO says engineering is fundamental to improving the quality of life of communities in most need.
"Each new year we turn to the Sydney Harbour Bridge and Sydney Opera House as the key focal points of our celebrations, she said. "At the same time our members are delivering humanitarian engineering projects throughout eight countries to provide people with access to shelter, renewable energy, Information and communication technology (ICT), water management and disability access."
Humanitarian engineering builds capacity by involving communities in solutions and providing training so that new infrastructure is maintained and people's quality of life continues to improve once the project is complete.
Sydney Lord Mayor Clover Moore said the City was proud to celebrate Engineers Without Borders' first 10 years and support its life-changing efforts over the next decade.
"These inspiring volunteers at Engineers Without Borders use their time and skills to work closely with local organisations across our region," the Lord Mayor said.
"Their work is improving the quality of life and having a lasting, positive impact on many communities."
Engineers Without Borders Australia has passionate and highly motivated professionals who commit to creating change through successful and longterm partnerships with community organisations, engineering companies and universities.
The organization has a presence in seven countries: Australia, Sri Lanka, India, Nepal, Cambodia, Vietnam and East Timor.
It boasts 1500 members and 15,000 supporters as well as 18 corporate partners and supporters and 28 University partners.