ENGINEERING PLASTICS OPTIMISE TIMBER MATERIALS HANDLING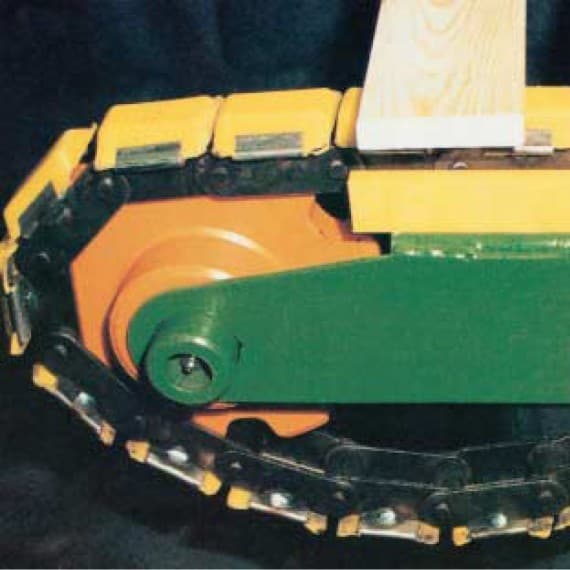 Responding to increasing demand for Australian forest products, Cut To Size Plastics is expanding its ranges of engineering plastic products dedicated to optimising the handling of timber products.
The company already distributes a full range of the internationally recognised Chanex UHMWPE chain channels, and is now investing in both inventory and new machining technology as Australia and New Zealand's combined forestry and timber revenues rise towards Au$10 billion in the current year.
The company has assembled an entire family of timber industry stock products made from the toughest engineering plastics, complemented by new investment in precision machining facilities to customise particular products for individual logging and timber operations.
Included in the latest investment is a Morbidelli Author M100F heavy duty CNC router and advanced machining centre used to produce top quality light and strong engineering components and finished products that use some of the world's most advanced engineering plastic formulations to deliver quiet, low-friction performance, requiring no lubrication or maintenance for timber processing. Being light, quiet and easy to handle, install and replace, the products also offer strong OH&S benefits.
"Custom-tailored products made from the latest engineering plastics can be formulated to suit particular applications requiring properties such as hardness, impact minimisation, maximised friction-free performance and tolerance for chemicals and heat," says Cut To Size Managing Director Laurie Green. Stock products, such as Chanex, offer immediate benefits, while custom products fabricated from engineering plastics (such as plummer blocks) offer light, quickly installed and tough alternatives to metal.
Green adds that Cut To Size is also is expanding stocks of its extensive family of stock products. These include: Chanex chain channel, made from top grade virgin UHMWPE engineering plastic; polyurethane and UHMPWE idler and drive sockets for longer chain life, as well as UHMPWE roller lugs that tolerate greater misalignment than conventional pipe lugs; and polyurethane J-hooks cast to fit all types of lumber sorting system.
"The driver behind our investment in new technology and expanded ranges for the timber industry include its need to minimise downtime in a busy environment where delay costs a lot of money," says Green.
"Our rugged and light engineered plastic products are easily installed and replaced, while also offering non-abrasive, vibration-free performance to preserve the maximum integrity and value of both unmachined and machined timber products. Such products are increasingly valuable as an export from New Zealand and as a component of Australian home construction, so it pays to protect output while enhancing the production process.
"Tough lightweight engineering plastic components are also easy and clean to handle, protecting workers' OH&S conditions while preserving the maximum value of timber as a sustainable resource," says Green.
Cut To Size's expanded machining capabilities are also used to tailor-make high-precision, light and durable machinery parts and complete products engineered from the materials of international leaders in plastics technology for which Cut To Size distributes nationally, including Licharz, Gehr and Beck-Wefapress.
Cut To Size Plastics
1800 288 274
www.cuttosize.com.au