ENGINEERING PLASTICS GEAR UP FOR DRIVE TRAIN APPLICATIONS
08-05-2017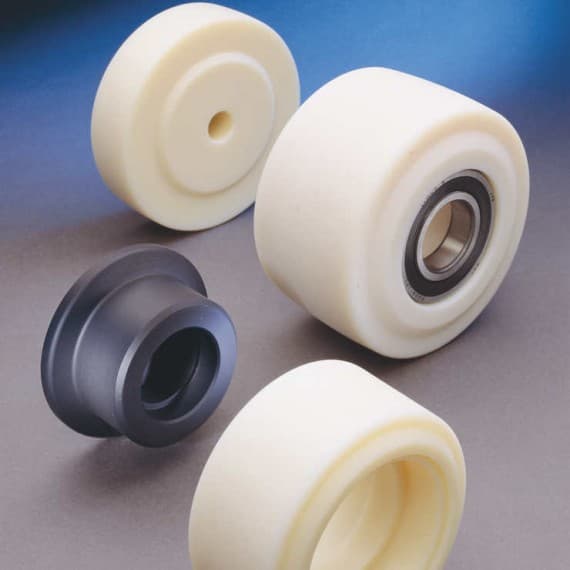 Cut To Size Plastics offers a range of engineering plastics suitable for plastic drive train components, offering numerous benefits over their metal counterparts, including reduced noise, reduced mass and the ability to operate without lubrication.
Durable alternatives to metal with major design advantages in particular applications include Cut to Size's WEARLON nylon ranges and Wearace acetal engineering plastics. Gears and drive train components made from them can be moulded and precision machined into shapes that are difficult to machine in metal.
Other functional elements, such as springs and pawls, can be incorporated into them, thereby consolidating parts and trimming the cost, weight, and complexity of geared speed reducers.
All WEARLON materials share advantages such as high mechanical strength, hardness and stiffness, as well as high mechanical damping capacity. They offer good fatigue and very high wear resistance, with good sliding and emergency running properties. They are also suitable for machinery subject to constant moisture and washdown.
"These properties, along with good machinability, lend them to typical applications such as bearings, guides, chain wheels and guides, bushings and slide and guide plates," says Pat Flood, NSW Manager of Cut To Size Plastics.
Other applications include toothed racks, mixer rollers, guide rails, rope pulleys, bearings, tappets, cam discs, gear wheels, transport stars, mixer blades, pump wheels, pinions, curved guides, crane supports and idler and guide rollers.
For particularly specialised applications, there are custom-engineered polyamides in the PA nylon family, including PA 6G, which is produced using a monomer casting process for even better strength and abrasion/wear resistance, with a lower specific weight for improved balance and reduced vibration.
A further modification of the PA6G polyamide is OILAMID, which is especially designed for sliding applications through the addition of oil, solid lubricants and stabilisers.
Wearace polyacetal, while typically specified for handling lesser loads than nylons, is eminently suitable and highly cost-efficient for sliding, guiding and roller elements of materials handling machinery.
Being physiologically inert, Wearace is highly suitable for food contact applications in natural form. Its main properties are high stability, high rigidity, high hardness, good impact resistance at low temperatures, low level of moisture absorption and good creep resistance.
Complementing the physical advantages are a high fatigue and impact strength (even at low temperatures) and good electrical insulating characteristics. In addition, because moisture absorption is low, the Wearace stock part's influence on mechanical and electrical properties is minimised.
Able to maintain its integrity under harsh operating conditions, Wearace is strong, hard and rigid. Its good sliding properties and a low coefficient of friction ensure that performance requirements are consistently met and that wear and maintenance downtime are minimised.
The Wearace range's structure facilitates application across an extensive range of industries, including machine construction, electronics, medical equipment and chemical processing.
Typical uses that benefit from Wearace's properties include gear wheels with small moduli, cams, heavily loaded bearings and rollers, bearings and gears with small clearances, valve seats, snap fit assemblies, and insulating components for electrical engineering and parts which operate continuously in water between 60 and 80°C. Industry specific examples are scraper blades on gelatine extruders, buffer blocks on electromagnetic bogie brakes and ratchet wheels on stapling machines.
Cut To Size Plastics
02 9681 0400
www.cuttosize.com.au