Engineering job losses 'a major concern for local car industry'
31-08-2010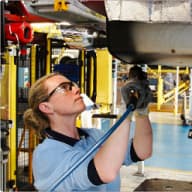 The continued loss of engineering R&D and design jobs in the automotive industry is of great concern for the future of a sustainable manufacturing industry in Australia, the Society of Automotive Engineers – Australasia has warned.
Last month GM Holden announced a round of voluntary separation packages to reduce their engineering staff by around 45 people at their Victorian headquarters in Port Melbourne.
SAE-A Executive Director Natalie Roberts said these job losses are of great concern for the individuals involved and also for the industry at large.
"Design, research and development roles such as these are the backbone of innovation and new product development in Australia, which then flows to manufacturing. This latest loss of highly skilled jobs is the continuation of a worrying trend," she said.
Ms Roberts said SAE-A advocates policies that enhance Australia's clean sheet design capabilities, which provide critical economic and social dividends to the community through innovation and new technologies.
"Under the present policy settings we are seeing a decline in Australia's automotive engineering skills and capabilities, she said. "We strongly urge the Federal Government to implement the Productivity Commission review in addition to an analysis of 'what the underlying issues are' in order to take immediate action to prevent a further weakening of the sector."
Ms Roberts says the SAE-A does not believe that Australia's engineering design, R&D and manufacturing industries receive the same level of support as its international competitors.
"Automotive design, research, development and manufacturing contribute to a wide range of other industries that generate significant additional employment opportunities right through the supply chain, so we cannot afford to sit idly by," she said.