| Article appears in February 2019 Issue
ENGINEERING EXPANSION MARKS THIRD DECADE DOWN UNDER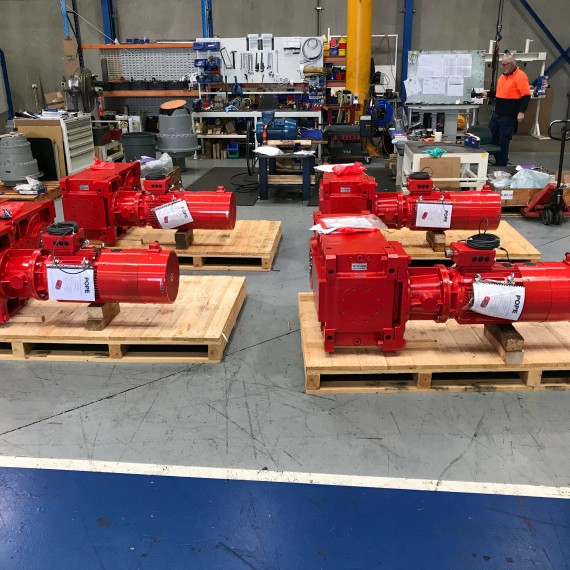 Gears, motors and drives specialist, Bonfiglioli, is expanding its local engineering expertise and strong focus on customised solutions tailored to individual customer needs, as it celebrates its 30th year in Australia.
Bonfiglioli's new Customer Application Engineering (CAE) team – based in Sydney and operating throughout Australasia – works with local innovators to combine local engineering skills with the global resources required to tailor larger, sophisticated and efficient drives to the needs of individual customers.
The new CAE team was introduced to respond to increasingly specialised and diverse demand in Australian industries such as mining and resources, food and beverage, power generation, manufacturing, agriculture and construction.
"In recent years, we've seen a higher demand for unique solutions to complex engineering problems. As a company that's now been operating in Australia for 30 years, we noticed this trend early and have been consistently expanding our in-house engineering expertise and capabilities to provide further advantages for our customers," says Malcolm Lewis, Managing Director, Bonfiglioli Australia.
"With the full resources of the global Bonfiglioli Group – which has 3700 employees, 22 branches and 14 production plants – our CAE team uses advanced software with global and local expertise to produce designs tailored to customer needs," he adds.
Bonfiglioli is one of Australasia's top suppliers of helical, planetary, worm and frequency inverter drives, offering specific solutions for industrial and mobile equipment.
Bonfiglioli drives are designed to withstand the arduous conditions often experienced in Australian climates, which experience high temperature fluctuations and harsh climactic extremes.
Globally, Bonfiglioli is currently constructing a new Eur 60 million state-of-the-art EVO plant, which will have an annual production capacity of 800,000 units. The new plant will feature the latest manufacturing and Industry 4.0 technologies and will further enhance local delivery times and digitalisation expertise.
"The new EVO plant will focus on lighter-duty products involved in industrial processes and materials handling initiatives, including automation and industry 4.0 applications, for which it will offer quicker times to market," says Lewis.
"The new plant represents the future of manufacturing. It will streamline production and deliveries globally, cutting the time needed to respond to customer needs," he adds.
Bonfiglioli's 30 years in Australia have been shaped by the global organisation's strong focus on quality, safety and reliability. This included ISO recertification to the latest ISO9001:2015 standard, to enhance its dedication to quality assurance.
"ISO 9001 certification brings many benefits to customers, including having their needs consistently met, lower defect rates, on-time deliveries and positive staff attitudes. It's such an important standard that it is often considered as a 'minimum requirement' for suppliers in industries like mining, minerals processing, bulk handling, manufacturing and materials handling," says Lewis.
Bonfiglioli's drives already power a huge range of industries locally and globally – including mining and resources, manufacturing, primary industry, food and beverage, power generation and renewable energy – and the organisation's research and development teams are looking at future demands as industries like renewable energy further expand.
"Bonfiglioli's individually focused expertise places us in a strong position to provide genuine value to our customers in the years ahead, as they increasingly seek to tailor solutions to new and complex tasks," says Lewis.
Bonfiglioli Transmission (Australia)
02 8811 8000
www.bonfiglioli.com.au