ENGINEER WHO MADE THE 'GUTTER PRESS' INTO SOURCE OF GOOD NEWS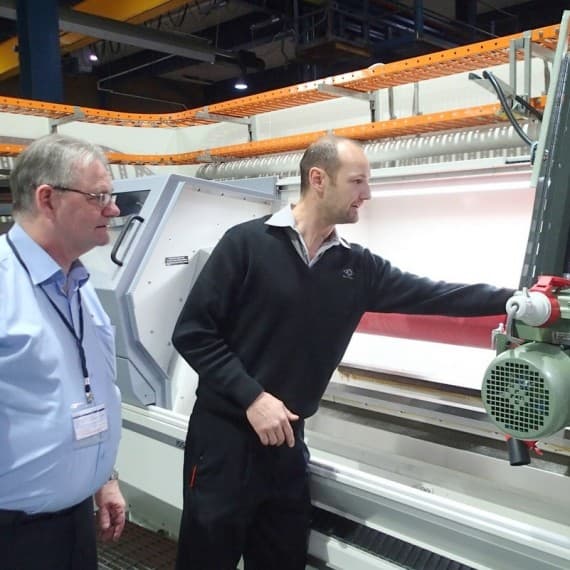 In 1946, a "bright spark" in Australia had an idea that was to revolutionise an industry, and change the face of the country's architecture forever.
Fred Anderson was an electrical engineer with a flair for innovation, and he started-out as a manufacturer of electrical distribution boards. He soon got the idea of making "hinge pin wiring duct" out of sheet metal, and used a brake press to make it.
Before long, he realised that the press could be better utilised, and that guttering might be a good option. In 1953, he began manufacturing quad gutter, a generic profile and a popular one at that time.
In 1958, he came up with a new innovative profile of guttering – the legendary Nu-Line gutter. It was a brilliant idea that made fascia boards unnecessary.
This was put on the market in January 1959, and quickly created great interest in the building industry.
Sales went so well that the brake press could not keep up with the demand, and so a roll-form machine was purchased in 1961 and was soon rolling out lengths of Nu-Line gutter up to 15.5m long.
From the humble beginnings in Hearne Street, Fred and his son Don Anderson – the current CEO – have taken the company forward with product ideas and the foresight to acquire adjoining properties for expansion over the years, and progressively extended the factory buildings to meet demand.
Today, the factory complex covers more than 1.9 ha. As the local community will attest, the factory is an icon in Mortdale, having stood there for more than 60 years.
The company employs more than 150 staff in Sydney, 25 in Melbourne and 12 in Nowra. Their staff are loyal, enthusiastic, and enjoy participating in charity days – such as Jeans for Genes Day and the Salvation Army Christmas Appeal.
In recent times, the company decided to not only increase the capacity of its engineering workshop, but to expand its capabilities. The workshop had several manual lathes, but these lacked the remarkable capabilities of the latest CNC turning centres.
Additionally, the existing lathes and their operators were being increasingly asked to produce more complex components as the company's product range expanded and required more complex shapes.
It was time to investigate new areas of machine and manufacturing technology, and the company's Engineering & Maintenance Manager, David Bochkareff did some some research to identify a machine suitable for the envisaged tasks.
He could see that a CNC lathe in the world-famous Alpha range from 600 Machine Tools could be configured to deal with the increasing workload.
"One of our routine tasks is to regrind polyurethane rolls used to manufacture our Durakote product in our coil coating line," he explained. "These are 250mm in diameter and 2m long, with a regrinding area of 1.5m.
"Most of this routine task – known as linishing – is undertaken by a sub-contractor, which means that it is not often possible to get a regrind done immediately, given that each one takes two hours.
"So, being able to do this job in-house on, say, a Friday afternoon, means that the coil coating line is not standing idle while waiting for a replacement roller," he added.
The final choice was an Alpha 1550XS, from Colchester-Harrison, a Yorkshire-based manufacturer that began manufacturing lathes in the days when Queen Victoria was on the throne.
Managing director of 600 Machine Tools, Cliff Purser, said: "Offering up to 3m between centres, this is a big lathe, with a swing over bed of 554 mm, an 15kW/20hp main motor, spindle speeds of 1–2000 rpm, and a spindle bore of 104mm.
"Despite the Alpha 1550XS generous machining capacity and size, the latest Fanuc OiTD control ensures that operators can approach this machine with the same confidence, ease of use, and simplicity of operation."
Mr Bochkareff said the Fanuc control had helped the company's tradesmen to make a smooth transition from manual lathe operation to CNC.
"The OiTD has many modes of operation that help us – Alpha mode helps the operator with a series of prompt pages, and the Manual Guide system is invaluable for more complex tasks."
He added that the 600 Machine Tools team had gone out of its way to help, not only configuring the machine to complete the envisaged tasks quickly, accurately, and reliably, but also in installation, commissioning.
They also helped to train Ace Gutters tradesmen to operate a CNC machine with a whole new range of capabilities.
Mr Bochkareff sees the Harrison Alpha 1550XS as a catalyst for change.
"After continuous physical expansion for almost 70 years, the company is now harnessing the latest technology for its engineering workshop. We've always worked hard, and CNC is now helping us to work smart."
Mr Purser said: "Ace Gutters is an Australian-owned family business of longstanding that has built its reputation on quality and service, and a key factor has been its policy of purchasing only 'best in class' machines.
"No other lathes on the market today, including full CNC machines, can compete with the Alpha XS series for speed of production when it comes to 'one-offs' and small-batch turned parts. It's an excellent choice for the busy workshops of Australia."
600 Machine Tools
Ph: 02 9674 4738