Engineer joins APPMA board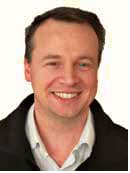 The Australian Packaging and Processing Machinery Association (APPMA) has appointed an engineering expert, Simon Parker, to its Board.
Mr Parker is a Solution Engineer at Machinery Automation and Robotics and is responsible for the development and sales of total end-of-line automation solutions in the southern region.
He has provided custom packaging and handling solutions to industry for over 12 years – the last three years at Machinery Automation & Robotics. (MAR)
MAR has provided solutions from purpose built packaging machinery and palletising lines to storage and retrieval systems and complete warehousing and logistics solutions.