ENGINE REMANUFACTURER WINS INDUSTRY AWARD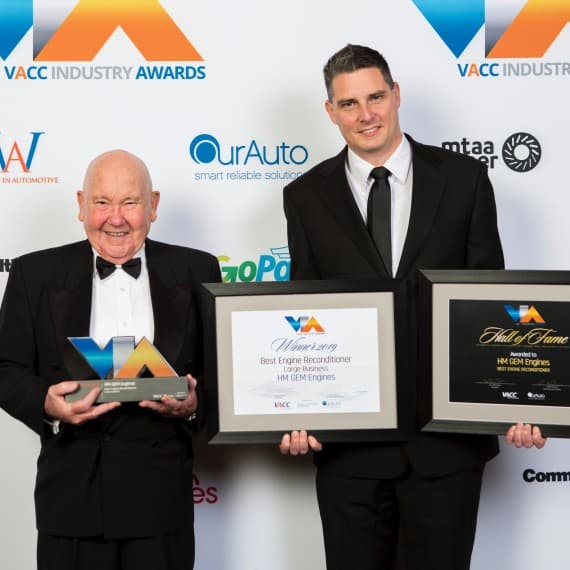 Bruce Parker and Dean Taylor (HM Gem Engines)
HM Gem Engines of Dandenong, Victoria has been awarded Best Engine Reconditioner (large business) at the 2019 VACC Industry Awards. It was one of 36 businesses and business people announced as winners of the premier prize of the Victorian automotive industry at a black tie dinner at the Grand Hyatt, Melbourne on 22nd June.
The awards were initiated by the Victorian Automobile Chamber of Commerce in 2016 in recognition of the many outstanding businesses operating across the state. VACC Chief Executive Geoff Gwilym says that the awards demonstrate the commitment to quality and customer service of the VACC's 5500 members.
"It is a huge accolade to be named the best in Victoria and these businesses have all proved themselves worthy of that title," he says.
Categories for this year's awards included dealers of new and used cars, commercial vehicles, farm machinery, motorcycles and tyres, aftermarket and retail, body and mechanical repair, electrical, parts/components, reconditioning, restoration and recycling, service station and convenience stores, towing and the Unsung Hero Award. Two new categories, Best Business Women in Automotive and Young Entrepreneur of the Year, were awarded.
Eight expert judges, audited by an independent standards representative, evaluated entries based on business management, workplace practices, customer service, marketing and communication.
With its head office and principal plant located in Dandenong, HM Gem Engines is recognised as the largest engine remanufacturer in Australia with engineering service plants in four states, employing in excess of 100 people. The company not only remanufacturers engines for cars, 4WDs and light commercials, but is also fully equipped to service engines and provide machining services for heavy transport, mining, construction and marine diesel engines of 5000hp and more.
As a multiple winner of this award since its inception, HM Gem Engines was recognised among four other outstanding companies and individuals with induction into the VACC Automotive Industry Hall of Fame, the industry's highest honour.
HM Gem Engines
1300 767 040
www.hmgem.com.au