Enforcer forklifts are on the rise
31-08-2010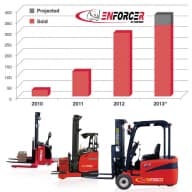 Enforcer forklifts is heading for another record year of forklift sales this year.
The company has already broken its 2012 record and is on target for 38 percent year-on-year growth. 
According to ForkForce, the distributor of Enforcer Forklifts, this year's strong growth has been underpinned by a marked increase in electric forklift, walkie stacker and reach truck sales. This is due in part to its popular Rent To Own program.
Enforcer was launched in 2010 and in just three years has become the top selling Chinese forklift in Australia.
"Enforcer forklifts have become increasingly popular of late and we are picking up a lot more referral business and repeat customers, said ForkForce director Adrian Martin. 
"Having now been in the market for nearly four years they've proven that they are not only great value, but high quality and durable."
Enforcer forklifts are sold with a 5-year parts and labour warranty.
"Being an Australian owned and operated forklift dealer has meant that even if a machine does breakdown our response time is quick and replacement parts are considerably cheaper than other brands," said Mr Martin. 
He expects 2014 to be ForkForce's best year yet.
ForkForce Australia Pty Ltd
Ph: 1300 423 675