ENERPAC'S SMART WRENCH IS ON A MISSION
06-09-2016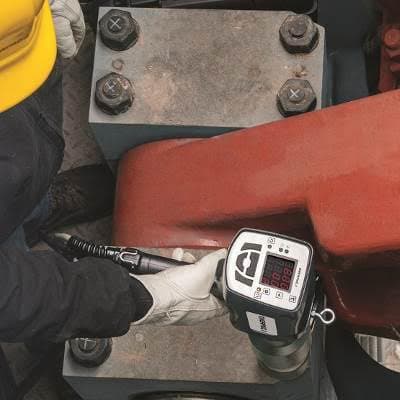 In recent years, the need for fast, accurate and traceable fastening solutions has resulted in the advent of increasingly sophisticated controlled bolting tools.
These solutions, however, are often complicated to use, making it difficult for the average user to understand them, and requiring a significant investment in training.
Enerpac's mission with its new ETW series electric torque wrench is to take SMART bolting, and make it simple.
This SMART, yet simple new tool is custom-engineered to provide fast, accurate and safe fastening for applications that require speed, precision and traceability.
The new ETW tool is operated with a 7" touch-screen, similar to those used in many popular mobile devices. The touchscreen is housed in an impact and flame resistant control box, which helps simplify and automate complex jobs, including those with torque and angle specifications through the creation of presets.
Using the touchscreen, the operator simply inputs the number of fasteners and the desired torque value for each fastening step, followed by the required angle of turn.
This sequence may then be saved as an automatic preset for future use. For simpler jobs, torque values may be input with a digital slider on the touchscreen, or directly into the rear control panel on the wrench.
Once the input torque is achieved, the tool stops, and a pass/fail indicator verifies that it is ready to move on to the next fastener. When the job is completed, the fastening record can be viewed on the touchscreen, or exported to a computer via a USB connection on the control box.
The ETW-Series tool is available with a full range of accessories which are also compatible with Enerpac's PTW-Series tools.
Enerpac
02 9743 8988
www.enerpac.com