ENERPAC MEGA GANTRIES RISE TO THE OCCASION
05-06-2014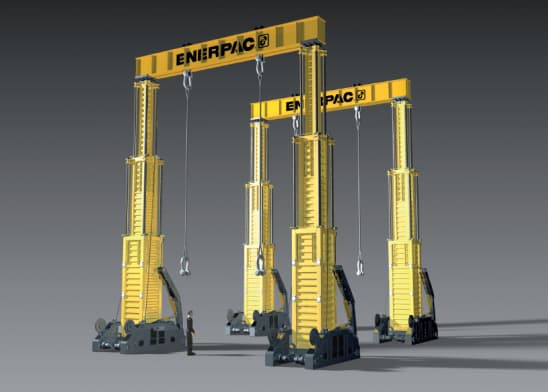 Enerpac has introduced a new 5000kN hydraulic lifting gantry to deliver industry-best standards of safety and stability when lifting heavy loads to heights exceeding 12m.
The MBL5000 lifting gantries – the latest product in the Enerpac Integrated Solutions' portfolio – are engineered to operate in confined areas.
They feature roller track self-propulsion to reduce the footprint load of the gantry by more than 50 per cent compared with regular steel wheels.
The new MBL5000s combine and extend upon product features that Enerpac introduced with the previous SBL series of gantry lifters.
The SBL series is widely proven in lifting heavy plant, machinery and components in applications such as mining and energy developments, oil and gas plants, bridges and civil engineering and ports and infrastructure.
Enerpac Integrated Solutions Manager for Australasia, Richard Verhoeff, says the new MBL5000 design incorporates a unique combination of features.
This includes:
Roller track self-propulsion
Proven Intellilift wireless control system with automatic synchronization and overload detection.
Foldable boom design, which facilitates transport inside a 20ft container and enables access to confined areas.
Ability to absorb all side loads in the steel boom structure and not in the hydraulic cylinders. To minimize boom drift - which can prompt overturning – the MBL5000 introduces pre-tensioned sliding bearings between the boom sections.
Maximum lifting height of 12.8m with only two full hydraulic and synchronized stages. As a result, boom drift has been decreased by more than 30 percent.
"This totally new design responds to strong market demand for higher capacities and lifting height, which, with conventional designs, can jeopardize stability by pushing safety factors to the limit, said Mr Verhoeff.
"Overturning and side load boundaries can easily be reached when a gantry is not perfectly levelled. In many cases, lifting operations today can start at the limits of what is allowed, with the safety factors reduced due to sometimes unavoidable ground settlement.
"To expand safety factors to previously unachievable levels, Enerpac decided to design the new MBL5000 gantry to provide the safety and performance standard of the future. To put safety and performance first and foremost, all features such as self-propelled tracks and wireless fully controlled synchronization systems are therefore included as standard."
By designing the hydraulic system within the assembly, no trailing hydraulic hoses are exposed in the working area – only an electrical power connection is required.
To ensure safety and provide certification, all MBL gantries are tested under the supervision of an independent third party (Lloyd's) at 120 percent secure workload, 2.5 percent side load and not more than 80 percent of the overturning moment will be allowed (110 percent, 1.5 percent and 90 percent respectively are allowed by the regulations).
Enerpac
02 9743 8988
www.enerpac.com