ENERPAC LIFTS A HEAVY WEIGHT FROM PROJECT MANAGERS
20-09-2016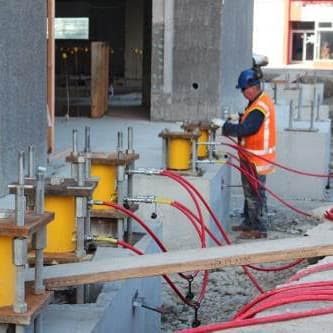 As cost and competition pressures intensify on the construction, infrastructure, mining, and energy sectors, the last thing companies can afford is delays to heavy lifts involved in essential maintenance and project installations.
Such work, including bridge, road, power installations, mineral sites, and energy process equipment installation, typically offers just a narrow window of opportunity during costly downtime, when all equipment must immediately be to hand.
Understanding such imperatives, Enerpack is expanding the availability and optimizing the delivery time of its range of high tonnage hydraulic cylinders in Australia.
Each cylinder is designed to comfortably handle up to 1000 tonnes each, with higher capacities possible in custom orders.
The CLL, CLP, CLRG, CLS and CLSG ranges are all designed to handle 50 to 1000 tonnes with pressures up to 700 bar (10,000 PSI), in demanding lifting applications such as construction, infrastructure, mining, energy, power generation and oil and gas.
"These cylinders are already the bywords for safety and reliability throughout Australasia – they are widely used in construction and infrastructure projects, as well as coal and mineral processing plants where outputs are being massively increased by hundreds of millions of tonnes compared with 10 years ago, says Enerpac National Sales Manager, Mr Darryl Lange.
"Major projects such as these are not interested in cylinders sold at a low price with little product support or manufacturer accountability if anything should go wrong."
"We've found that the crucial requirements for customers are stock availability, lead time and rigorous quality control with traceability, criteria in which Enerpac has been an Australasian leader for more than 50 years."
"When lifting or lowering heavy loads, dangers and safety risks are posed if the lifting technology doesn't perform. You just can't afford to cut any corners with such vital tasks."
"You also don't want to be waiting for product availability, especially in major projects where downtime is costly," said Mr Lange, adding that the expanded availability and delivery times will be particularly useful as we enter the forthcoming Christmas/New Year maintenance shutdowns.
Enerpac
02 9743 8988
www.enerpac.com