ENERPAC HYDRAULIC GANTRY CRANES LIFT PRODUCTIVITY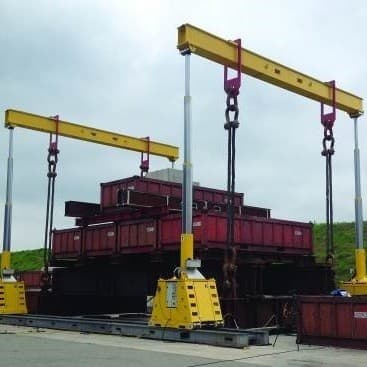 Enerpac Australasia has introduced a compact, simple-to-operate and safe hydraulic gantry crane for the precision lifting and positioning of heavy loads.
The new gantry crane can lift up to 408 metric tons, when using four towers.
The SL-400 Super Lift Series is a cost-effective alternative to a traditional crane for numerous applications including building and infrastructure, manufacturing, mining, logistics, ports, oil and gas and maintenance.
The SL-400 hydraulic gantry is the company's highest capacity bare cylinder gantry. Equipped with three stage lifting cylinders, the SL-400 lifts up to 30 feet (9.14m) at the top of the third stage and can handle up to 450 short tons (408 metric) at the top of the second stage.
Designed to meet stringent safety requirements, the SL-400 complies with the safety standards set by ASME B30.1-2015. To ensure quality performance, each gantry is tested to 120 percent of capacity at full extension and witness tested by a qualified third party organization. The SL-400 is also CE compliant.
"The SL-400 has a smaller footprint compared with larger gantry cranes, making it ideal for confined spaces or low headroom areas, such as heavy machinery, turbine or generator positioning and press installation," says Enerpac Australasia Integrated Solutions Manager, Mr Warren Baltineshter.
Hydraulic gantries are a safe, efficient way to lift and position heavy loads in applications where traditional cranes will not fit and permanent overhead structures for job cranes are not an option. Hydraulic Gantries are placed on skid tracks to provide a means for moving and placing heavy loads.
"The SL-400 is also a very cost-effective solution for installation and maintenance across a huge range of industries. It doesn't need expensive foundations or structural support columns for the installation of heavy equipment such as turbines and generators," says Mr Baltineshter.
The SL-400 complements Enerpac's globally proven range of hydraulic gantries, including the SBL-Series heavy duty boom lift, with capacities up to 1100 tons and the MBL-Series mega boom lift, with lifting heights over 12,000mm.
Enerpac
02 9743 8988
www.enerpac.com