Enerpac 40-ton Mini-Lift gantries compactly move machinery and equipment in hard-to-access spaces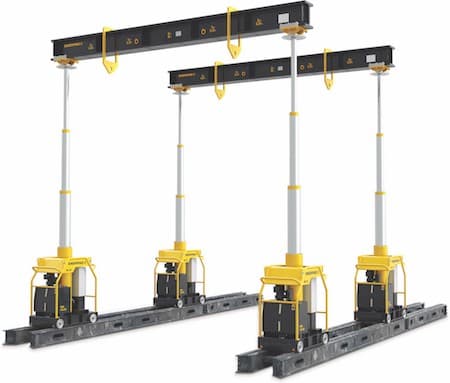 New Enerpac 40-ton capacity ML40 Mini Lift Gantries are engineered to provide portable and easy-to-use solutions for machinery movers, plant relocation services, millwrights, and medical equipment installers who need to move machines and equipment in compact spaces.
The simply set up ML40's compact size makes it ideal for moving equipment around new or old installations, including those where space is limited when moving machines or parts of machines either within the same building or to another building.
Its short, collapsed height and narrow width means the ML40 Mini Lift Gantry can get into spaces that other equipment cannot, says Enerpac. The gantry can also rotate the load (up-end or down-turn) to move through the building.
ML40 Mini Lift Gantry Features include:
• 40 ton capacity (4 legs) in all stages
• 1.97 m (6.5 ft) collapsed height
• 5.5 m (18 ft) extended height
• 750 mm (29.5 in) width
• 1350 kg (2967 lbs) self-weight per leg
• Industry standard 24-inch track gauge
• 115 or 220 VAC single phase power
• Freewheel operation for transportation and set up
• Roll cage allows for overhead lifting and/or towing and pushing for installation
• Uses same accessories as complementary Enerpac Super Lift SL100 gantry (track, beam, etc.)
Can be operated without support track with considerations for load and ground conditions
Machinery Installation or Replacement
When performing a new equipment installation or the removal and installation of equipment for maintenance or repair, industrial movers are often faced with minimal headroom and many obstacles, says Enerpac. The ML40 Mini Lift Gantry makes it easy to offload the equipment from the delivery vehicle and re-position it for use in the facility. Additionally, it makes it easy to assemble the equipment in sections and then move it as a complete unit into final position.
When replacing old equipment, disassembly in sections may be easiest method of removal. The small size of the ML40 Mini Lift Gantry makes it easier to mobilize and set up.
Medical Equipment Installation
Installing medical equipment typically involves difficult access within the hospital. Medical equipment is often delicate and needs smooth, even lifting, says Enerpac. Standard synchronized lifting on the ML40 prevents damage to equipment being moved.
The compact size of the ML40 Mini Lift Gantry is also a critical feature. It is easy to transport and fits into most freight elevators. Single phase voltage 115 or 230 VAC operation eliminates any need for long, high voltage power connections or noisy generators.
Standard safety features
The ML40 Mini Lift Gantry features standard synchronized lifting and control and load readout to ensure safe and level lifting. A wireless pendant keeps the operator away from equipment during operation.
The ML40 is also versatile. Its high capacity and simple set up mean even jobs with challenging or uncertain information can be managed without issue. It is also easy to use. A simple set up means even relatively new rigging operators can operate the equipment.
For more information about Enerpac equipment please use the contact details below:
Asia ph +65 68 63 0611 |email Salesasia@enerpac.com
Australia: ph: +61 (08) 9414 0100 | email: info@enerpac.com.au
New Zealand: ph: +64 (02) 166 7716 | email: neville@enerpac.co.nz
Papua New Guinea: ph: +675 7988 9115 | email: patrick.molloy@enerpacpng.com
About Enerpac
Enerpac is a global market leader in high pressure hydraulic tools, controlled force products, portable machining, and solutions for the precise positioning of heavy loads. As a leading innovator with a 110-year legacy, Enerpac has helped move and maintain some of the largest structures on earth. When safety and precision matters, elite professionals in industries such as aerospace, infrastructure, manufacturing, mining, oil & gas and power generation rely on Enerpac for quality tools, services and solutions. For more information, visit www.enerpac.com.
About Enerpac Tool Group
Enerpac Tool Group is a premier industrial tools and services company serving a broad and diverse set of customers with operations in more than 25 countries. The company was founded in 1910 and is headquartered in Menomonee Falls, Wisconsin U.S. For more information, visit www.enerpactoolgroup.com.