Energy saving downlights from Tenrod
31-08-2010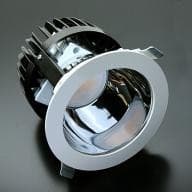 LED lighting is a source of lighting that can deliver energy savings to the Australian manufacturing industry.
LED lighting specialist Tenrod has recently launched its AdvanQuez DLMM series of downlights to complement its extensive range.
The DLMM series is built with Philips' LED Downlight Module Integrated Systems with a special versatility for customization. 
This series will have a lumen efficiency of 77 lm/W (series average) as compared to CFL lamp sources, which have a typical lumen efficiency of 50 lm/W.
With a L70B50 life rating of 25,000 hour, these luminaires will provide longer lasting and lower maintenance lighting solutions. They are ideal for retail, office, public and hospitality installations.
The new series provides energy efficient alternatives to 18W, 26W and 2X18W CFLs. 
They cover main downlight applications colour temperatures (3000K, 4000K, 5000K) with superb colour consistencies. 
And they have a CRI of 80 and outputs of 1100 and 2000 lumens, delivering greater savings compared to CFL systems.
Most importantly, the modular structure provides great flexibility.
With LED downlights you have a large range of options in relation to design, optics, light quality and thermal management. 
Tenrod Australia Pty Ltd
Ph: 02 9748 0655