ENERGY HARVESTER SHEDS LIGHT ON CONVEYORS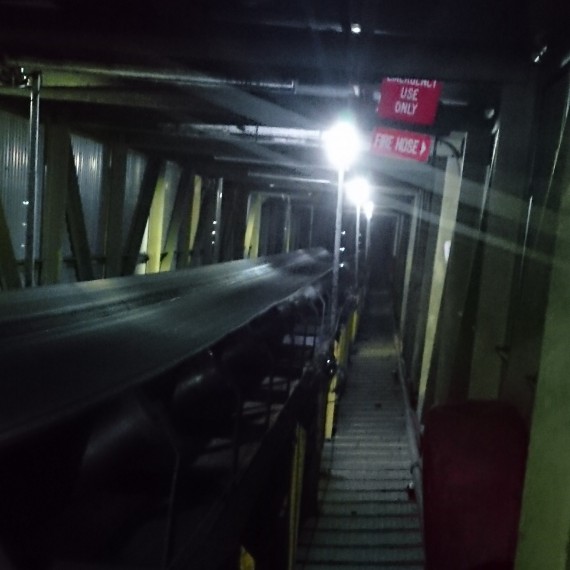 Energy harvesting has been a hot topic in the world of microelectronics for some time. The ability to draw microamp-level currents seemingly from thin air and use them to energise low-power circuits is very appealing, and has enabled the design of a raft of battery-free microelectronic devices, including many "wearable" gadgets.
However, one Australian company has set its sights a little higher, and has come up with a system that exploits the spare kinetic energy available from the humble conveyor belt.
The Energy Harvester Lighting and Control System is the brainchild of Wollongong-based KRS Design, and was originally developed for use in the mining sector to provide power for illumination and security in long underground coal mining shafts. Now proven in that application, the company is keen to move on and apply the system to other materials handling conveyors.
The KRS Design Energy Harvester comes as a "plug-and-play" system that can be attached to virtually any conveyor. The generator is attached to any idler roll on the bottom return path of the conveyor, and is typically capable of harvesting 150W.
This power is fed to the system controller, which distributes it to LED lights, sensors, cameras, communications circuits etc as required. In all, the company reckons that each harvester unit will supply sufficient power to provide these services to a 100m-long run of conveyor. Multiple systems can be installed on longer conveyors as required.
Importantly, the generator does not load the conveyor during startup. And it is fully protected against overcurrent and overtemperature.
The system comes with comprehensive control software that can be linked to an existing Scada system via Modbus TCP/IP or can be accessed remotely using a dedicated web server via the controller's onboard Ethernet and Wi-Fi interfaces.
All the electronics are housed in a rugged stainless-steel enclosure, together with a maintenance-free backup battery to keep essential services powered when the conveyor is not operating.
Since developing the system, KRS Design has been trialling it at three locations around New South Wales, all without failure. The longest running trial is above ground at a coal-processing plant at Lithgow, which has been running reliably for the past 15 months.
KRS Design
02 4262 2572
www.krs-design.com