| Article appears in October 2019 Issue
ENERGY EVENT TO FEATURE LEADERS AND STARTUPS (AND WARNIE)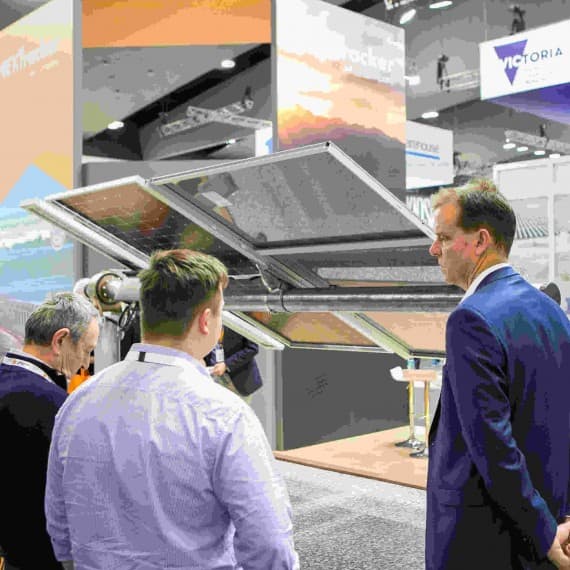 This year's All-Energy Australia event is set to feature the largest exhibition in its history, with more than 290 industry leaders and innovative startups to showcase their transformative energy solutions.
Under the theme "Advancing Australia's transition to a clean energy future", the event will also feature a conference with 200 speakers across seven streams. The industry event has been strategically developed to support and educate professionals working or investing in the renewables sector, having attracted more than 8500 local and international industry visitors in 2018.
"The clean and renewable energy sector continues to grow from strength to strength, as Australia continues to increase integration and reliance on these energy sources," says Robby Clark, Exhibition Director at Reed Exhibitions Australia.
"With the industry spurring Australia's progression to zero emissions, we are excited to be able to offer visitors access to the latest innovative clean and renewable energy solutions, on our largest exhibition floor to date," he adds.
A number of international energy suppliers will feature on the exhibition floor at All-Energy Australia 2019, including Growatt, a leading global PV manufacturer that produces a range of smart energy storage solutions for on-grid and off-grid applications, and SMA, a global photovoltaic system technology specialist.
Rex Wang, Product Manager at Growatt, explains: "As the number one residential solar inverter brand in China, Growatt is excited by the opportunity to showcase our range of solar energy solutions, from inverters to energy storage solutions for on-grid and off-grid applications, at All-Energy Australia 2019.
"At the event, Growatt will be launching our new battery-ready X series residential inverter, the MIN 2500-6000 TL-XH. This inverter has a battery interface that easily integrates into an existing storage system to eliminate retrofit costs and is a perfect option for homeowners, looking to convert their rooftop PV systems into solar storage systems in the future."
John Susa, Executive Vice-President of Global Sales & Service, SMA Solar Technology adds: "We are excited to introduce our latest SMA Energy Systems for home, business and large-scale at the upcoming All-Energy Australia 2019. For large-scale segment, we will launch the most powerful PV inverter, the brand new 1500V DC-coupled Sunny Central UP, which enables significant cost reductions on transportation, installation, commissioning and service as well as operation costs of PV power plants.
"We also bring the new SMA Sunny Tripower Storage 60, the new battery inverter for business applications together with SMA Energy Storage-Business to the Australia market as the perfect solution for commercial and industrial storage solutions. SMA is committed to powering Australia by leveraging its German Engineering with SMA 360-degree Business Support to contribute to both our customers' success and a sustainable green future."
Many local and international exhibitors both will be displaying their energy market solutions, from virtual power plants to embedded networks, solar batteries and solar energy storage solutions.
According to Patrick Matweew, Chief Executive Officer, Redback Technologies, his company's presence at All-Energy Australia will focus on showcasing its advanced energy solutions: "We're excited to show our next generation of advanced energy solutions at this year's All-Energy Australia. Redback is offering a whole new suite of data-enabled products and features that create value for a wide variety of customers in the energy markets including consumers.
"Our team will be demonstrating the capabilities of the Redback Energy Platform, which includes Virtual Power Plants, Embedded Networks, network safety and much more."
James McLaren, Managing Director at startup Newton Aqua, describes his company as an innovative clean technology company that specialises in the generation of renewable energy and the desalination of water.
"We are especially pleased to be participating at our first All-Energy Australia Exhibition and Conference," he says. "This exhibition is an excellent opportunity to showcase our unique technologies to industry, potential customers and the general public. It is our mission to apply our innovative renewable technologies to supply the world with clean, reliable and affordable water and energy."
In addition to the numerous product and brand launches featuring at All-Energy Australia 2019, Social Energy will launch its Australian presence, having been founded in the UK seven years ago and achieving the largest market share for solar systems installed in the UK since June.
Marketing Director Daniel Mahoney says: "At Social Energy, we've had Australia as a critical market on our roadmap for dynamic energy storage for a number of years. Now off the back of taking over 50% market share in the UK of the solar coupled storage industry, we're extremely excited to be launching our operations in Australia, alongside our partner Duracell, exclusively at All-Energy Australia.
"The 23rd October will mark our official launch in the Australian market, with a world-leading management team already in place for Social Energy Australia. We will be showcasing the Duracell Energy Bank v2, connected to our domestic VPP platform, capable of cutting customers' electricity bills by up to 70%.
"Our launch celebrations continue with a night-time event on the 23rd with a special appearance from our shareholder and brand ambassador Shane Warne. We look forward to seeing many faces from the industry and revealing the future of energy storage and electric vehicle charging throughout AEA."
All-Energy Australia will be held from 23rd and 24th October 2019 at the Melbourne Convention & Exhibition Centre. Free registration is available at: www.all-energy.com.au.