ENERGY EFFICIENT TECHNOLOGY – SUSTAINABLE FUTURE IN THE MAKING
23-05-2018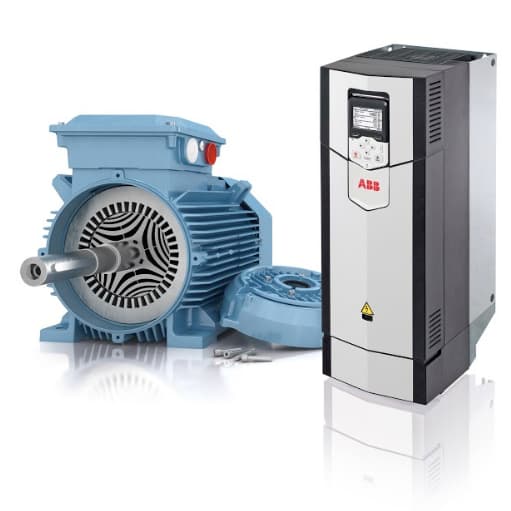 The latest SynRM motor-drive package from ABB attains an IE4 efficiency classification
Energy efficiency is a word pairing that hardly anyone has missed during the last decade of public discussion. It's been on the agenda for so long already that you might even think the topic is exhausted. So, is there anything new to the theme, asks Axel Savolainen of Control Logic.
Let's take lighting technology as an example. The first commercially produced electrical light sources - incandescent filament bulbs - were actually electric heaters, generating some visible light as a byproduct. Over the decades, more efficient technologies were introduced, such as discharge lights and fluorescent tubes. Long considered a niche technology, LED lights are becoming a common feature everywhere where artificial light is needed.
Incandescents and fluorescents are being replaced with LED technology. Not only has the efficiency improved over the decades of technological leaps, but so has the lifetime of products increased tremendously. So now, the installed base of lights and lamps is slowly but steadily becoming LED-based.
In the electric motor arena, variable speed drives (VSDs) have been around for decades, and are becoming even more commonplace as the prices of semiconductors and processors continue to decline. More and more applications are becoming feasible for speed control.
Electric motors themselves have seen a steady race for improved efficiency over the decades, partly because of regulatory requirements. What is remarkable is that this 'workhorse of the industry' is still witnessing some leaps of improvement in regards to loss reduction, even though the basic technology is approaching the ripe old age of 200!
For example, a recent innovation and a product launch from ABB, the SynRM synchronous reluctance motor, virtually eliminates the energy losses in the rotor. Coupled with a matched VSD, the efficiency of such a motor and drive combination is something previously unattainable, especially at partial loads.
Some 20 years ago, IEC efficiency class IE2 was considered highly efficient. With the latest SynRM motor-drive package from ABB, we are talking about an IE4 efficiency classification.
Similar aspirations towards reduced losses can be seen in other equipment categories. For example, some manufacturers of switching power supplies are introducing cutting-edge technologies capable of getting ever closer towards the magical 100% efficiency mark. As an example, the CP10 series power supply from German company Puls wastes less than 5% in losses from the electrical power it draws.
Reaching for energy efficient installations and systems seems to be a never-ending quest for sustainability. Even though a lot of progress has been made, recent innovations suggest that we might not be finished with the technological development any time soon.
Product distributors such as Control Logic are well positioned to supply today's most energy-efficient technologies to progressive contractors and end users, today and tomorrow.
Control Logic
1800 557 705
www.control-logic.com.au