Energy efficient forklift mounted sweeper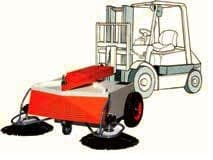 The Workease forklift mounted sweeper is ideal for large industrial areas.
It requires no power as the brushes and dust collecting fan are driven by the traction wheels.
With Workease you can sweep large areas (7500sqm/hr) that are normally labour intensive, easier than ever.
Simple drive the forklift into the attachment pocket and you are on your way.
It is pushed along by the forklift and effectively handles sharp turns.
An inbuilt dust collecting fan and easy clean, heavy duty dust filter minimises dust dispersal. Disposal is a breeze. The forklift lifts the unit over the supplied, collapsible box pallet disposal system with its garbage bag or any other waste receptacle, the release lever is pulled and the bottom dust box opens.
The lid closes automatically when the unit is lowered.
The Workease, from Materials Handling, is highly economical compared to conventional driven sweepers – operating costs are minimal.
Materials Handling
Ph: 1300 65 00 35