ENERGY CHAIN HAS SPACE FOR TWO HYDRAULIC HOSES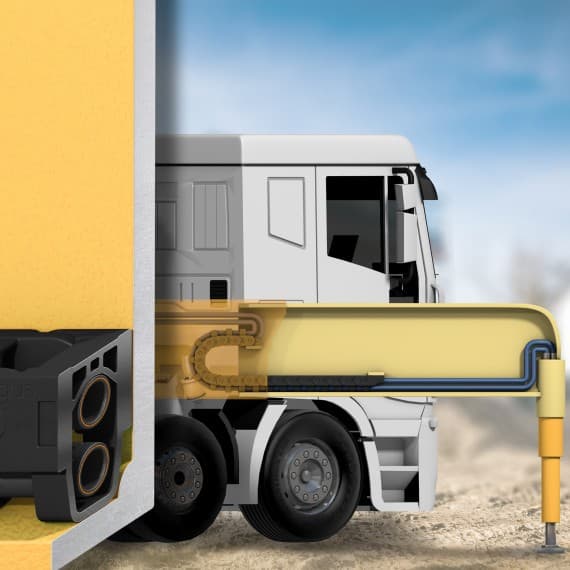 The latest energy-chain innovation from igus is aimed fairly and squarely at the mobile machinery market. The new E2 energy chain includes space for two hydraulic hoses in addition to power and control cables.
Designed to reduce the costs of maintenance and downtime, the E2 chain is ideal for use in the support legs on construction machines, such as concrete pumps or mobile cranes. The safe guidance of hydraulic hoses crucial here. And the E2 hydraulic chain not only protects the internal cables, but also prevents torsion and bending of the hoses through the predefined minimum bend radius.
The chain design includes igus' "extender crossbars" to create extra interior space for the guidance of hoses, and allowing the guidance of larger-diameter hoses.
A one-piece, very solid extender crossbar design and the heavy-duty pin/bore connection ensure high strength, even for large unsupported lengths. The extender crossbars are injection moulded directly on the side link and thus offer optimal hose guidance and stability.
Externally, the hydraulic chain is just 41.2mm wide and 57.5mm high. The predefined minimum bend radius is 75mm. The total required installation height for the chain is only 255mm. Thus, the E2 hydraulic chain can be integrated into almost any application, such as close to the base or on the side wall of support legs, a concrete pump or a mobile crane.
Treotham Automation
1300 65 75 64
www.treotham.com.au