END PROFILING TAKES THE STRAIN OFF ROLLER BEARINGS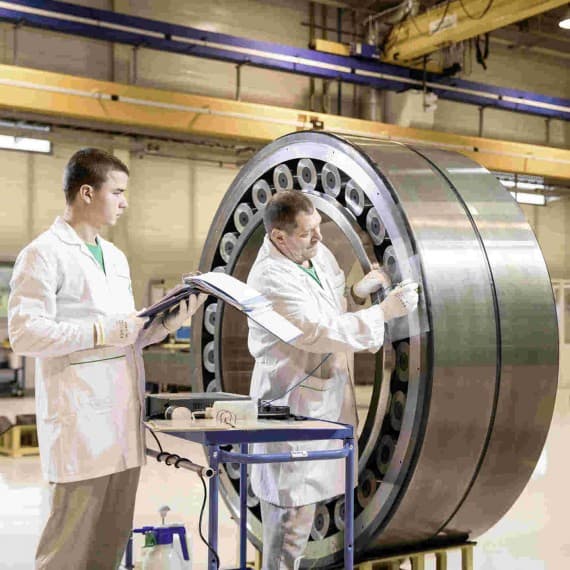 Schaeffler is adding further rolling elements to its large 241-series spherical roller bearings, with SRB bore diameters of 500mm and above featuring greater operating life and X-life quality with high load capacity.
The new barrel rollers incorporate end profiling, with an optimised micro-geometry on the ends of each roller. This makes them significantly more robust in major uses such as grinding roll crushers.
Rollers with profiled ends offer decisive design advantages compared to rollers without end profiling. On rollers with profiled ends, the amount of material on the outside surface of the roller radius is reduced logarithmically.
In new condition, end profiled rollers are not subject to the risk of high edge pressures developing when under high loads. Additionally, edge pressure as a result of abrasive material wear occurs significantly later and is at least 20 per cent lower compared to rollers with end-profiling.
Operating life is also increased by up to 15 per cent. The customer benefits from increased operational reliability and machine availability as a result of increased wear resistance.
Their use in roller presses – which are primarily used as grinding mills for cement and raw materials as well as the mining industry – offers lots of potential. These applications involve high loads and harsh ambient conditions.
There is also a risk of contamination entering the bearing during operation and servicing, for example when bearings are replaced. This in turn leads to increased raceway wear and edge stress, which results in premature material fatigue and a significant reduction in the operating life. The end profiling of the Schaeffler rollers alleviates these effects.
The new bearings retain all of their predecessors' X-life characteristics. These include the optimised internal design with increased load carrying capacity, improved surface quality, and the floating central rib that effectively reduces friction. The option to equip the bearings with seals that do not affect the design envelope also remains unchanged.
Schaeffler Australia
02 8977 1000
www.schaeffler.com.au