Published 13-12-2018
| Article appears in February 2019 Issue
END OF AN ERA AS MACHINE TOOL MD PASSES THE BATON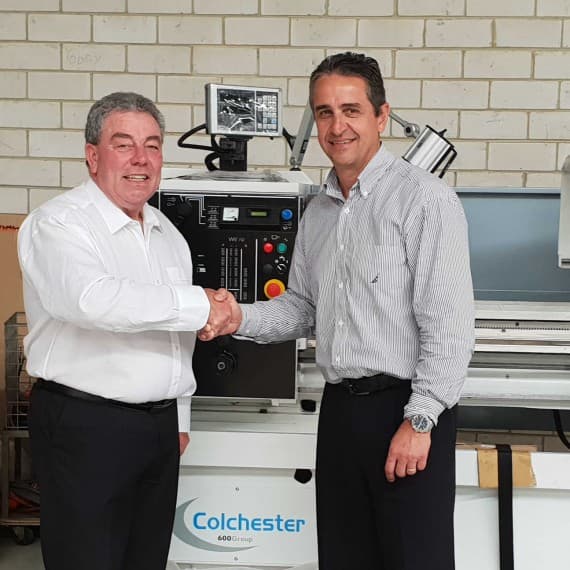 Cliff Purser (left) will be succeeded by Zelko Galic
After a long stint as the Asia-Pacific Managing Director of 600 Machine Tools, Cliff Purser is retiring from his post in Sydney, and returning to live in New Zealand.
The genial Englishman has led the 600 team in Australia since transferring in November 2004 from the position of New Zealand National Sales Manager, based in Auckland, a post he had held since 1988.
His original brief was to be responsible for the supply chain, planning, and strategic direction of the business.
Under his leadership, the nationwide team successfully launched the Clausing brand in Australia, and it has become as familiar as such industry legends as Colchester and Harrison.
Clausing is a major manufacturer of world-class machine tools, based in Kalamazoo, Michigan, and has been a member of the 600 Group since 1986.
Purser is particularly proud of bringing to fruition the group's major objective of establishing a network of agents throughout South East Asia. In addition to identifying, recruiting, and training these agents, he participated in 600 Group presentations and demonstrations at the major trade fairs in the region.
He also made many visits to the company's head office in Yorkshire, and worked with its team at many major trade shows.
After serving the engineering industry for more than three decades, Cliff Purser has seen huge changes in Australia's workshops. "Electronics changed the world as we know it, and such controllers as the Fanuc Oi-TF have transformed the manual lathe in the same way that the jet-engine transformed the aeroplane," he said.
"The CNC-equipped machine tools that 600 designs and builds today are extraordinarily more capable than those of the 1980s, and boast greater speed, accuracy, and durability.
"The 'bang for bucks' ratio has changed, too. When correctly configured, today's CNC lathes will happily work through the night, unattended, transforming the economics of component production."
Cliff Purser will retire at Christmas, and is to be succeeded by Zelko Galic, an Australian executive with considerable engineering and business management knowledge and experience.
Zelko Galic is a degree qualified engineer with an MBA and is a graduate member of the Australian Institute of Directors. He believes that his formal qualifications in the engineering sector, along with his strong understanding of technical products give him a keen insight into the current and future requirements of Australia's engineering workshops.
"Australians are, by nature, creative," he said. "The 600 Group is a trusted supplier of the tools used for the creation and production of new products.
"Part of my new challenge is to ensure that workshops in engineering and manufacturing have continual awareness and understanding of the rapidly advancing technologies.
"True competitiveness springs from more than being able to produce a revolutionary mousetrap. Products have to be made faster, more accurately, and on time.
"Workshop managers know the key role that the latest machine tools can play in competing with imports, and in winning export markets."
Galic added: "It will be an important part of my role as leader of the team at 600 Machine Tools to ensure that every workshop manager is kept aware of the advances in machine tool technology.
"Then, to work co-operatively with individuals to identify the specific machines that will give them an edge in today's fiercely-competitive markets."
600 Machine Tools
02 9674 4738
www.600machinery.com.au