EMO HANNOVER 2019: DRY MACHINING AND MQL USE INCREASING (PART 2)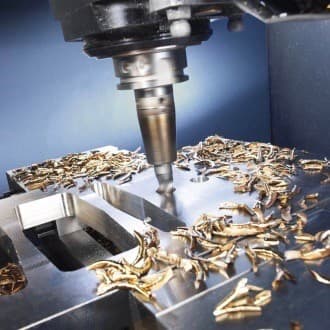 Production managers in manufacturing often have to consider whether they should continue with conven-tional machining and coolant lubricants, or whether dry machining and minimum quantity lubrication (MQL) are viable alternatives.
From a technology point of view, it is important to consider material properties and ma-chine performance, but plant costs, energy and health aspects increasingly need to be in-cluded in any assessment of the overall process.
In the run-up to EMO Hannover 2019, lubrication system manufacturers and scientists commented on these issues in Part 1 of this two-part series. Part 2 now looks at various machining technologies from the practical perspective of tool and machine manufacturers.
Over twenty years ago, some experts predicted a triumphant future for dry machining. In which areas have dry machining and MQL become established?
Gear hobbing now exclusively dry
"The advantages of MQL over wet machining lie in the lower costs for the cooling lubricant and the elim-ination of chemical additives in the lubricant. This results in cost advantages, and also fewer adverse health effects for the employees," says Dr Hartmuth Müller, Head of Technology and Innovation at Klingelnberg GmbH's Hückeswagen, Germany production site. The mechanical engineering company, headquartered in Zurich, Switzerland, employs around 1300 people worldwide and specialises in bevel and spur gear technology.
"The principle behind MQL is based on wetting the rake face. This is easy to achieve with internally cooled tools, while it is not feasible with the complicated tool geometries of gear cutting tools. For this reason, Klingelnberg relies exclusively on dry machining for gear hobbing. We only use MQL when ma-chining cast components for use in engineering."
Tungsten carbide bar cutting tools are deployed for bevel gear milling. For cost reasons, tungsten carbide tools are not widely used for spur gear milling; dry-cut PM-HSS hobs are generally used for this purpose. The subsequent hard finishing of gear wheels is carried out, whenever possible, by grinding, using oil as coolant lubricant.
"Dry machining has definitely triumphed in gear manufacturing, as predicted," says Dr Müller. "Thanks to developments in cutting materials and coatings, cutting speeds are up to five times higher than they were with wet machining 20 years ago. Dry machining has not only led to a considerable increase in productivity, but also to cleaner production."
At EMO Hannover, Klingelnberg will demonstrate its highly proficient ranges for the gearing industry, including the development and manufacture of machines for gear production, precision measuring centres for all kinds of rotationally symmetric objects and the manufacture of custom-made, high-precision gear components.
Cost-efficient and environment-friendly
"MQL has replaced conventional coolant lubricants in some machining processes," says Lothar Horn, Managing Director of Hartmetall-Werkzeugfabrik Paul Horn GmbH of Tübingen, Germany, a leading tool manufacturer.
"Cooling and lubricating using minimum quantity lubrication offer users a number of advantages. This has led to MQL being used in many machining operations, particularly in series production. This type of cooling reduces the high costs in the maintenance, preparation and disposal of conventional coolant lubri-cants. In addition, it eliminates the energy costs for the high-pressure pumps and feed pumps required for returning lubricants to the collection basin.
"In addition, the government is imposing stricter requirements on coolant lubricants with regard to haz-ardous ingredients. In spite of the advantages of MQL I just mentioned, conventional coolant lubricants are indispensable in production facilities. Many processes – such as drilling, machining of high-temperature alloys, or internal machining with high chip removal rates – require an adequate supply of conventional cooling lubricant."
At EMO Hannover 2019, the tool specialists will be showcasing their extensive turning, milling, slotting and reaming portfolios as well as their ranges of ultra-hard cutting materials and special tools.
Planning dry machining correctly
"In Grob machines, dry or MQL machining is used for processes with a geometrically defined cutting edge such as drilling, milling or roughing," says Jochen Nahl, CSO of Grob-Werke GmbH & Co KG from Mindelheim, Germany. This family-owned company has a total workforce of around 6900 employ-ees worldwide and has been a pioneer in the construction of highly innovative production and automation systems for more than 90 years.
"Typical workpieces are frame structure or chassis parts, combustion engine and drive train components made of aluminium or grey cast iron, and now also turbocharger housings made of highly heat-resistant cast steel. Wet machining is still very much part of the DNA of many companies, yet the share of MQL machines has already increased to 12 per cent in recent years and is continuing to rise, especially for the machining of frame structure and chassis parts.
"The advantages of MQL machining speak for themselves. Production line investment costs can be low-ered and the effort involved in cleaning the workpieces can be reduced significantly. In addition, MQL uses around a quarter less energy compared to wet machining."
Although dry machining is not currently being deployed to the extent that was expected, it is clear that in-dustry is gradually accepting it.
"If the benefits are to be reaped, any switch from wet to dry machining should be based on an intelligent strategy and implemented with a competent machine supplier as a partner," Nahl recommends.
"Modern companies are already benefitting from recent positive developments such as temperature com-pensation, the use of higher air pressure levels, and modular systems that reduce manufacturing costs and avoid unnecessary over-engineering."
Grob will showcase its current portfolio, conduct live machining demonstrations and present other tech-nical highlights at this year's EMO in Hanover.
Conclusion and outlook
Wet machining involving larger quantities of cooling lubricant is still used for the vast majority of ma-chining processes. Nevertheless, dry machining and MQL are on the advance, especially in special areas such as gear hobbing.
In addition to technological aspects (such as workpiece materials and machine performance), potential cost savings for energy and systems play an important role in selecting the appropriate process. In addi-tion, health aspects, sustainability and stricter legal requirements are being accorded ever-greater weight as factors within the overall assessment. Technological advances and detailed knowledge of the cutting edge processes will offer more and more possibilities in the future for safe and (in many cases also) high-ly productive dry machining and MQL.
At EMO Hannover 2019, trade visitors will find in-depth information, suggestions and help in making the right choice between wet and dry machining and MQL for their own applications.