Published 05-11-2019
| Article appears in November 2019 Issue
EMERGENCY ALERT SYSTEM IS BEST PRACTICE IN RISK MANAGEMENT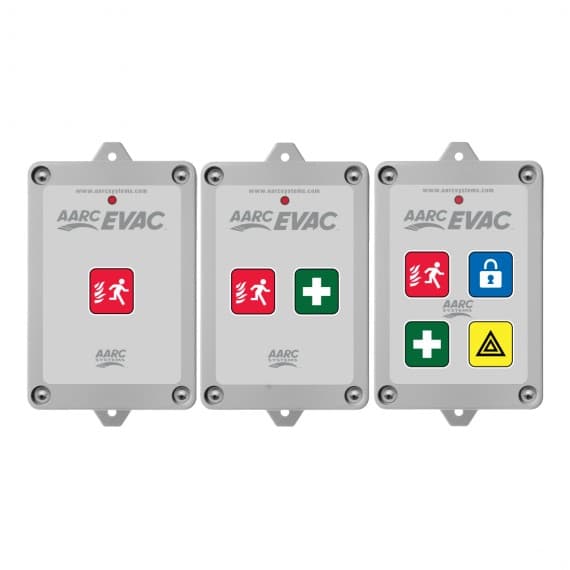 Transmitters can have multiple buttons to cater for different emergencies
In today's world, workplaces, schools, shopping malls and anywhere that people gather can come under threat or experience a medical emergency.
Most emergency alert systems are designed to provide for fire evacuations using sirens. But all too often, when a siren sounds in a public place, most people don't know what it means, what they are meant to do or where they need to go.
What is needed is an affordable solution that combines evacuation sirens with voice instruction. There is also the need to cover other emergency risks such as lockdown, duress assist, first aid assist and natural disaster warnings.
The management of AARC Systems recognised that this problem was not being adequately addressed, and set out to design an all-in-one, affordable solution.
The AARC-EVAC system is a wireless linked emergency alert system combining sirens with clear and concise voice instructional messages. This includes the delivery of multilingual voice messages, where required.
The company now provides risk management solutions for evacuation, lock-down, multi-zoned duress assist, multi-zoned first aid assist and natural disaster warnings. Each client can choose the functionality they want, based on their risk profile and priorities, and the voice messages can all be tailored to suit the site requirements.
An AARC-EVAC system can be as simple as a single battery-powered pushbutton wall-mounted remote transmitter and one receiver message player unit. Or it can be scaled up to hundreds of pushbutton transmitters and hundreds of receiver message player units all networked and distributed across a site.
The range of wall-mounted and handheld remote transmitters are available as single-button or as multi-button transmitters. A total of 15 different button combinations are available in both the wall-mount and the handheld versions.
The AARC-EVAC range also includes remote transmitter interface units that can interface to existing fire panels to enable the upgrade of an existing evacuation siren system to include voice instructions.
AARC-EVAC receiver message players have a wireless receiver, digital siren and voice message player, with multiple amplifiers driving speakers. Each unit has its own UPS battery backup.
Units can be supplied with or without flashing beacons. A system can include indoor units and weatherproof outdoor wall- or pole-mounted units; these outdoor units can charge their UPS batteries from mains or solar power.
AARC Systems is focused on controlling risks, eliminating risks and reducing the impact of emergencies and emergency incidents. It prides itself on delivering better outcomes and on its system's ability to control, eliminate or reduce the impact of physical and physiological injuries and in some cases to potentially save lives.
The AARC-EVAC solution is being distributed nationally through consolidated security merchants with hundreds of systems integrators located across Australia ready to assist.
AARC Systems
03 5334 2865
www.aarcsystems.com.au