Published 22-10-2019
| Article appears in November 2019 Issue
ELIMINATING RISKS IN WASTEWATER PUMPING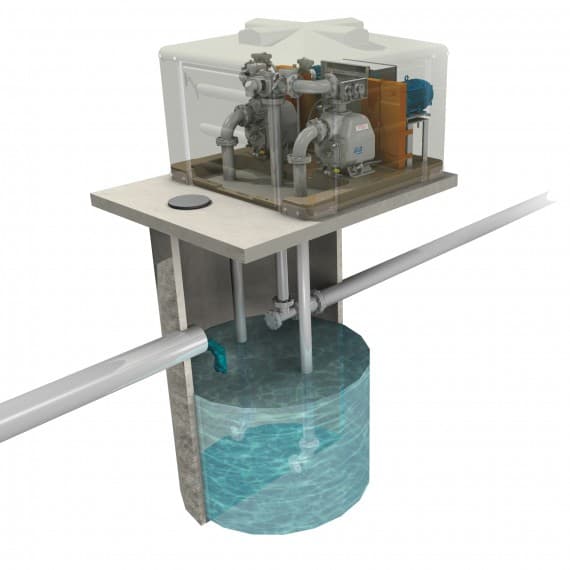 Repairs and maintenance on above-ground pump equipment are far more convenient and cost effective, with most risks eliminated
With OH&S issues being a priority for all companies, the range of pumps distributed by Hydro Innovations addresses both operator safety and pump maintenance costs, while delivering improved performance in waste management.
The need to access wet wells with multiple people to repair submersible pumps can be a thing of the past with the Gorman-Rupp range of above-ground self-priming pumps that can easily be monitored and maintained by one person from the safety of ground level.
Gorman-Rupp pumps remove the need for chains, guide rails, harnesses, cranes and confined space training and greatly reduces the need to ever access wet wells. Similarly, the Gorman-Rupp and Venturi bank-mounted aeration system allows ponds and lagoons to be aerated from the safety of the bank, removing the need for workers to be exposed to unnecessary risks.
Wastewater pumps are at the least glamorous end of any production process, but selecting the wrong ones can be problematic, be a drain on the maintenance budget, and can pose safety risks for operators.
The conventional wastewater pump system uses submersible pumps. Any works required, whether it be removing a blockage, replacing a worn or broken part, repairing or replacing guide rails, or repairing or replacing discharge elbows, requires the removal of safety screens, exposing operators to risks.
Risks to operators mean a big investment in time and resources to manage WH&S.
We are all familiar with the requirements for registering trained personnel, rated equipment registers, regular inspections and/or replacements. Time-intensive preparation of risk assessments and work statements, and management to ensure staff and operators are following procedures are massive drains on the bottom line.
Self-priming wastewater pumps greatly reduce the level of supervision and admin required in operating your facility and wastewater management.
Working at heights becomes redundant. Working over water is no longer necessary. Working with heavy swinging weights becomes a thing of the past. Working with cranes – no longer required. And working in a confined space is no longer necessary.
Self-priming wastewater pumps eliminate a lot of risks, but buyers need to be aware of some important factors to further reduce management headaches and equipment downtime.
When buying a self-priming pump, ensure the pressure relief valves are properly rated. They should have teflon gaskets for the fill port. Clearance adjustments need to be from the non-drive end to reduce maintenance time and improve safety. And the right bearing protection (ie double lip seals, atmospheric vent etc) will ensure a longer service life for shafts and bearings.
An aeration system can also be safer. Traditional surface-mount aerators are located in the body of water, meaning specialist equipment and skills and certifications, along with higher safety risks for operators.
A Venturi Aerator is driven by a self-priming pump, and all pump and aeration equipment is mounted on the bank of the lagoon. This eliminates the need for cranes, rowboats or complicated tethers to access equipment. This gives operators easy access for planned regular routine maintenance, keeping equipment at peak operating efficiency. This always proves more effective than unplanned breakdowns.
Hydro Innovations offers manufacturers an audit of their wastewater systems to assist in eliminating risks associated with wastewater pumping and aeration systems.
Hydro Innovations
02 9898 1800
www.hydroinnovations.com.au