Eliminating Pipe Strain And Improving Your Machinery's Performance
16-05-2016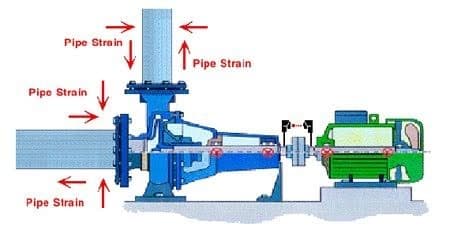 Premature machine failure can be costly - both in terms of maintenance costs and unplanned 
downtime and it makes sense from a bottom-line perspective as well as in terms of optimising 
operational efficiencies to take preventive action.  
One factor which isn't widely recognised as being a contributor to premature machine failure is pipe 
strain, but it should be.  Pipe strain creates stresses on the machine frame or casing which eventually 
spreads to the body of the equipment and causes the shaft to become misaligned.  Before realigning 
the shaft, it's imperative that technicians identify the causes of misalignment - and that means 
checking that the suction and discharge pipes aren't causing any strain on the machines.
There are basically two types of pipe strain, namely static pipe strain which can occur when the 
machines are operating as well as when they are inactive and dynamic pipe strain, which happens 
when the machines are running.
The best approach is more than just a shaft alignment system - it should be a total alignment 
solution which ensures optimal machine performance.  The good news is that a product such as the 
Easy Laser shaft alignment system fulfils all the important testing criteria for controlling pipe strain 
and aligning shafts in one simple, easy-to-use yet highly accurate package.  
The beauty of this device is that it can easily and quickly evaluate whether pipe strain is causing the 
shafts to move out of alignment - plus its advanced measuring program enables operators to 
investigate the differences between a machine that is operating and one that is static.  This is a key 
factor in measuring dynamic pipe strain which can be trickier to identify because it's not a fixed 
state, occurring only when the machine and piping are at operating conditions.  
Operators using the Easy-Laser can also transfer data to the EasyLink software support package, 
which offers a host of useful and value-added features.  For example, the software will compute the 
data into graphic format, enabling technicians to make better-informed decisions to optimise 
machine performance.
If shaft misalignment is costing your operation money, it may well be that pipe strain is to blame.  
Find out more about how the Easy Laser shaft alignment system from Nexxis can help eliminate pipe 
strain, improve your machinery's performance and improve your profitability by calling them on 08 
9418 4952 or by visiting their website,
nexxis.com.au
.   They are one of Australia's leading suppliers 
of specialist remote visual inspection (RVI) technology, non destructive testing (NDT) 
equipment, instrumentation and measurement and alignment equipment, which assist heavy 
industries and infrastructure projects improve their onsite performance.