Electronics protection for outdoor applications
31-08-2010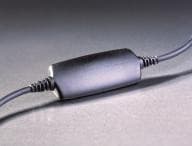 Innovative … Macromelt moulding from Tarapath
The innovative process of Macromelt moulding protects your electronics cost effectively and efficiently. 
In applications where electronics need to be protected from the outdoors, supplier Tarapath recommends the UV resistant material, OM648 for the over moulding of grommets, plugs and other electronics.
One of the advantages of protecting electronics with Macromelt, and specifically, outdoors electronics with Macromelt OM648 is that custom designs can be created, and external housings are made redundant. 
Product differentiation can be achieved through a unique look to your product, while at the same time protecting it from the elements.
Macromelt OM648 has all the benefits of other Macromelt materials such as short cycle times, safe processing, waste free, with the additional benefits of being able to protect any kind of electronics against the weather and UV radiation. 
Typical applications include plugs and grommets for solar connecting cables, solar connection boxes, and some outdoor military applications.
The Macromelt low pressure moulding family of materials is available from Tarapath, along with the equipment and necessary knowledge required to implement the process.
Tarapath Pty Ltd 
Ph: 03 9269 6200