ELECTRONIC SENSOR FOR COMPOST BINS IS INNOVATION TO THE MAX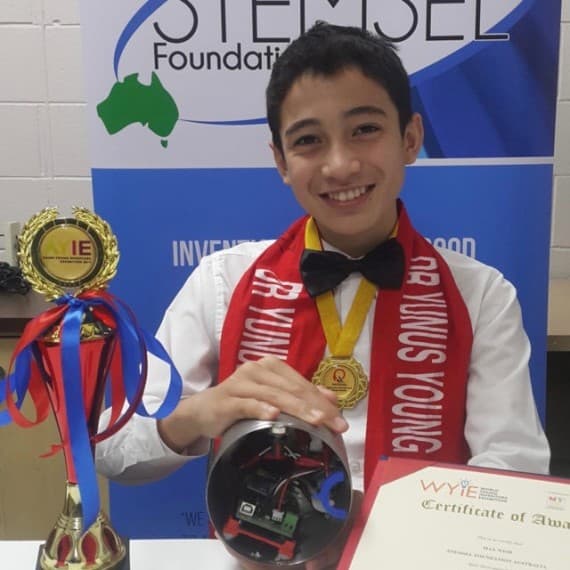 Max Weir: "it's a great way to change the world from a young age"
Max Weir, a 13-year-old, year 8 student at Glenunga International High School in Adelaide has won an international inventors award in Malaysia for his Wi-Fi enabled electronic monitoring system for compost bins.
He attended the Malaysian Invention and Design Society's World Young Inventors Exhibition, where his prototype was up against 800 entries from more than 20 countries. He was the only entrant from Australia in the Secondary School section of the competition, and won despite the average age of competitors being 16.
The automated system includes a light sensor that measures the amount of waste being put into the bin by volume and weight, and a weight sensor that measures the amount of compost being produced in the bin through the decomposition process. This real-time information can be viewed on a web page or mobile app.
He designed the system for BiobiN, a patented system for organic materials developed by Willunga-based Peats Soil. BiobiN Commercial Manager John Hogarth says he is working with Max to help him adapt his invention to suit a commercial unit.
"What Max has done is technically great. We just have to do a few little tweaks on it so it can be physically adapted to the system to withstand the fairly tough operating environment it needs to work in," he says.
The system incorporates the runlinc electronics development platform that uses the Internet to allow programming to be done directly onto a microchip. The South Australian developer of the platform, eLabtronics, says runlinc will soon become the "gold standard" for building electronic devices that draw on internet-based resources.
Dr Peng Choo and Miroslav Kostecki founded eLabtronics in 1994, and launched an education arm called STEMSEL in 2009. This not-for-profit organisation aims to teach disadvantaged children how to use electronics in combination with Social Enterprise Learning and operates in Bhutan, Brunei, Cameroon, India, Kenya, Kyrgyzstan, Malaysia, Nepal, the Philippines and Thailand, as well as Australia and the United States.
Max's opportunity to travel to Malaysia came after he won the STEMSEL Young Inventor's competition at last year's Royal Adelaide Show.
"When I entered (the Royal Adelaide Show competition) I didn't think I was going to do too well because I rushed to get it done in time and that just shows how easy runlinc is to use," Max says.
"My goal is not just to make compost: I want schools to be introduced to these types of climate change projects.
"The question is how do we get them involved and if we introduce simple and easy to use applications like runlinc so that they can connect their inventions through Wi-Fi then they can learn quickly, especially in the STEM sector.
"If our generation starts early then just imagine how advanced we will be when we decide to go to uni and it's just a great way to change the world from a young age."
He is now working on a system to capture the methane produced in the composting process so it can be used as fuel. With a friend, he has also designed a "smart beehive" that can measure the amount of honey in a hive, bee activity, temperature and the presence of disease without disturbing the bees. It will be trialled in spring when bee activity increases in South Australia.