ELECTRONIC CIRCUIT BREAKER PROVIDES SLIMLINE PROTECTION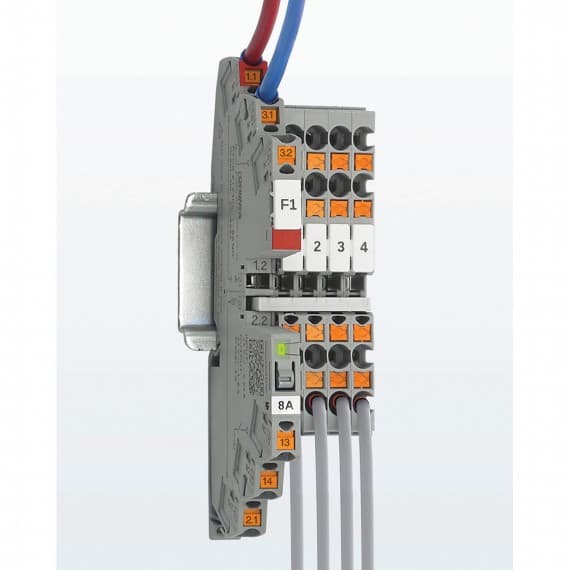 At just 6mm wide by 106mm high, the PTCB electronic circuit breaker from Phoenix Contact provides space saving circuit protection.
The smart device protects 24V DC loads against overloads and short circuits. It can be used as a stand-alone circuit breaker or combined with the company's Clipline DIN rail terminals and accessories for additional outputs and other distribution options. The PTCB is easy to retrofit to existing applications as it does not require additional terminals.
The PTCB devices are available with either fixed or adjustable current ratings. The adjustable devices offer great applications flexibility, as they can be set between 1 and 8A. This rating can be modified during start up and adjusted at any time to respond to changes in the application.
All devices come with relay status indicators with pre-warning LEDs so that users can see the functional status of each circuit breaker.
The push-in capability of the PTCB means that connecting the device needs tools and involves a lower insertion force than comparable technologies.
The PTCB also offers high reliability under extreme ambient conditions. It is suitable for use in ambient temperatures from -25 to +60°C, and is shock and vibration resistant.
The PTCB range includes three adjustable devices with nominal current ranges between 1 and 8A, and four devices with fixed nominal currents of 2, 3, 4 and 6A.
Phoenix Contact
1300 786 411
www.phoenixcontact.com.au