ELECTRICAL TRAINING PANEL HELPS WITH CERT III IN ELECTRO-TECHNOLOGY
24-03-2017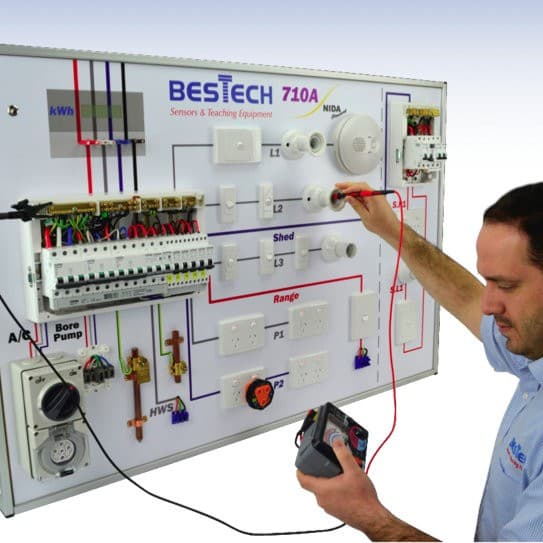 The latest addition to the range of teaching equipment from Bestech is the Model 710A computer controlled electrical training and assessment panel. The unit replicates a low-voltage general electrical installation, and offers the ability to automatically insert wiring faults. Multiple 710A test panels can be interfaced together and operated simultaneously.
The 710A is designed for use in training for UEE30811 Certificate III in Electrotechnology Electrician. It assists in the final unit of competency UEENEEG105A to verify compliance and functionality of low voltage general electrical installation.
The board comprises a main switchboard (with a three-phase component), a sub main distribution board, earthing arrangements, and multiple circuits for lighting, power and appliances. All circuits can have faults activated on them or be verified as being compliant and having correct function.
The panel comes with Fault Master software, which is designed for guided training in the classroom. It gives the instructor the ability to activate faults on any one board, or group of boards within a daisychained network, all from a single central PC.
Optional web-server-based examination software is tailored for the assessment of an individual student's competency in inspection and testing of electrical installations. The software can be set to mark the answers and record all the details of the examination.
The model 710A represents an installation before the supply is connected, and so there is no risk of electrical shock. The unit is designed with reference to Australian Standards AS/NZS 3000:2007 Electrical installations and AS/NZS 3017:2007 Electrical installations - Verification guidelines.
Bestech Australia
03 9540 5100
www.bestech.com.au