ELECTRICAL TESTERS MEASURE UP TO 1000V WITHOUT TEST LEADS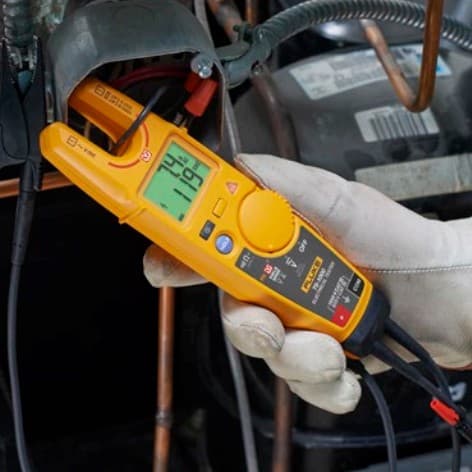 Fluke has come up with a novel approach to electrical troubleshooting that promises to both save time and make the task safer. The company's T6 electrical testers feature Fluke FieldSense Technology that allows electricians to take simultaneous voltage and current measurements without test leads.
The T6 testers can be used to take reliable true-RMS measurements in crowded junction boxes or along conductors with inaccessible end points, saving time, minimising potential errors, and reducing the danger of arcing.
Voltages up to 1000V can be measured simply by putting the tester's open fork around a cable – there's no need for separate test leads, or to expose the conductor. And the open fork is reckoned to be the widest in the industry, capable of accommodating 4/0 wires with current up to 200A.
In addition, the T6-1000 model can be used to simultaneously measure and display voltage and current, as well as measuring resistance up to 100kΩ.
The rugged handheld testers are 1000V CAT III, 600V CAT IV safety rated (600V CAT III for the T6-600 model) and feature an easy-to-read backlit display.
Fluke Australia
02 8850 3333
www.fluke.com.au