ELECTRICAL PROTECTION DEVICE HAS ARC FAULTS COVERED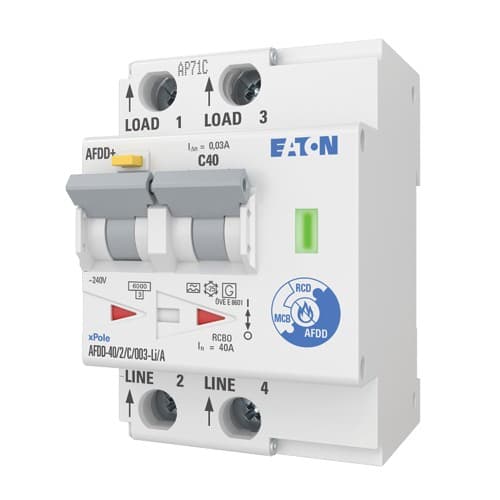 Eaton has developed an arc fault detection device that provides critical all-in-one protection against electrical fires in buildings. The Eaton AFDD+ combines arc fault detection, earth leakage current protection (RCD), short circuit and overcurrent protection (MCB) technology in a single compact device.
According to Dan Agnew, General Manager, Power Distribution ANZ at Eaton, "Standard switchboards with RCD and MCB circuit protection are unable to detect electrical arc faults that are the root cause of most fires – so by adding an extra layer of protection with Eaton AFDD+, arc faults can be detected early, immediately isolating the damaged cable and effectively eliminating the ignition point."
Already widely used in Europe and the USA, the Eaton AFDD+ is the first IEC-based solution in the world to combine all three protective layers in one device.
The new AS/NZS 3000 electrical installations standard includes guidelines for the use of arc fault detection devices in final subcircuits for locations storing flammable materials, fire propagating structures, premises with sleeping accommodation or buildings where valuable assets need to be protected.
The Eaton AFDD+ comes in multiple options ranging from 10 to 40A, with an in-built 30mA Type A RCD. Devices come with a purpose-designed busbar comb for easy installation.
Eaton
1300 3 EATON
www.eatoncorp.com.au