ELECTRIC TUG BOASTS TOP TRACTION ON IMPERFECT SURFACES
14-06-2017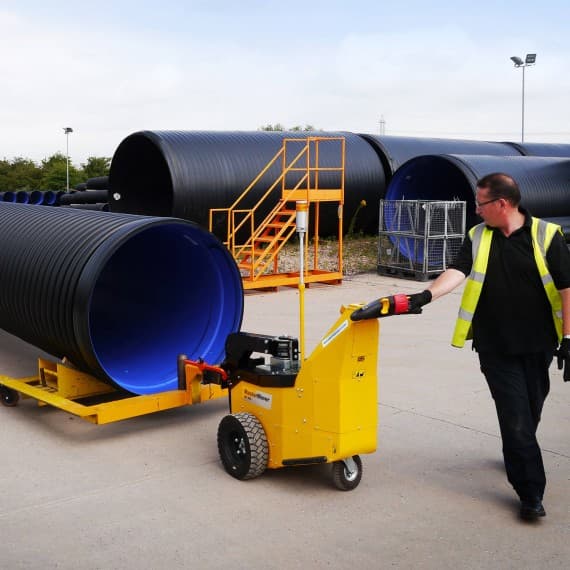 New from MasterMover, the ATT400+ is a powerful electric tug with a high-performance hydraulic coupling capable of moving loads up to 5000kg on castors or 40t on rails.
Ideal for use in industrial environments, the tug allows pedestrian operators to handle heavy loads on all surfaces, with the specially designed hydraulic arm transferring the load's weight onto the wheels. This, in addition to the redesigned body of the tug and puncture-proof tyres, means that staff can handle up to 5t in any operating condition.
According to MasterMover MD Andy Owen, one of the main problems in industrial plants is the lack of traction available due to dust, dirt and debris created during production.
"To address this, MasterMover has redesigned the body of the tug itself to generate more traction. The main wheel has been moved forward and is now reinforced by a smaller supporting wheel at the back, which provides better balance so that operators can keep loads level on uneven surfaces," says Owen.
"By making these tugs easier to operate, plant managers can minimise the amount of non-value added time in their plants to improve productivity. It also means that loads are handled in a much more controlled manner, which prevents the safety hazards associated with high speed obstacle collisions."
Other products in MasterMover's all-terrain range of load handling equipment include the MasterPusher and ATP400 electric load pushers. These products are designed to push wheeled loads in rough conditions and are housed in FEA tested steel chasses. Every product in the range has a number of additional options available, including safety lights and wireless control handsets.
MasterMover Australia
07 3490 9600
www.mastermover.com.au