ELECTRIC TORQUE WRENCHES MAKE LIGHT OF HEAVY-DUTY LOCO BOLTS
12-09-2017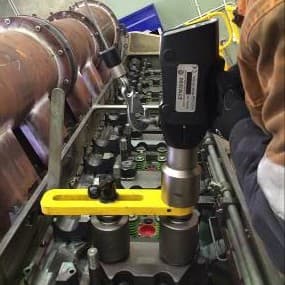 Downer Rail has adopted the Enerpac ETW electric torque wrench as its tool of choice for torqueing crab bolts on Electro Motive Diesel (EMD) locomotive engines. These workhorse diesel locos are typically used to haul minerals such as iron ore for Australian resources companies.
The crab bolts are critical components that of EMD locomotive engines that hold the power assembly to the engine.
The ETWs specified by Downer rail come with a sliding reaction arm, which is useful in applications where the distances between reaction points or bolt centres are widely spaced and uneven, making it difficult to use a standard reaction arm.
"It's an evolution from the tooling we were using," says Downer Rail Depot Manager Brian Munro. "The ETWs are lighter and easier to use, plus a single technician can now perform a task that previously required two people."
Munro adds: "Another major advantage for us is that the ETW constantly records what it is doing, eliminating the time-consuming task of manually recording each torque reading. This is a big time-saver."
"We've had so much success with them on the crab bolts that we're looking into other areas where they can save us time too, such as turbo gear drive bolts, crank shaft bolts and other major bolts on locomotive engines," he says.
The Enerpac ETW uses high-speed continuous rotation, which makes it faster than manual methods. The user can simply input a nominal torque value followed by a specific angle of rotation.
Enerpac Australia
02 8717 7200
www.enerpac.com.au