ELECTRIC TORQUE WRENCHES GAIN SLIDING REACTION ARMS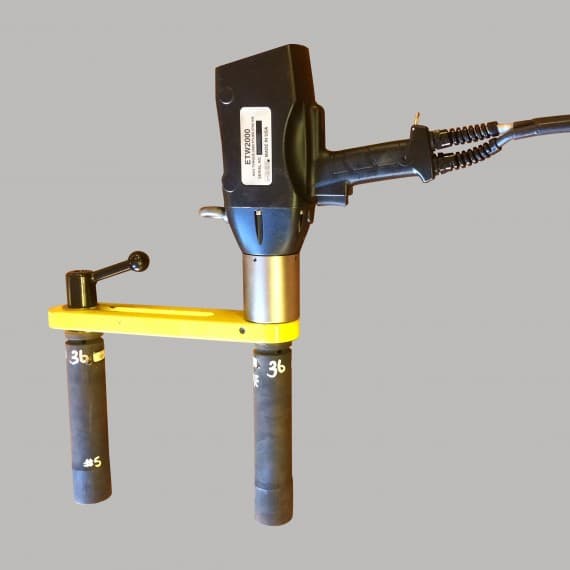 Enerpac has released sliding reaction arms that enhance the safety, flexibility and efficiency of its ETW electric torque wrenches in difficult torque tightening applications.
The reaction arms – one that fits the nationally distributed ETW1000, 2000 and 3000, and a second that fits the ETW6000 – are suited to applications such as replacing mill liners on mining and bulk handling sites; track, road and rail undercarriage, wheel and shovel maintenance; turbine bolts, tower segments and turbine casings; and pipe flanges, valves, manway covers and pressure vessels.
"The new sliding reaction arm has been designed for applications where the distance to an adjacent reaction point or bolt centre are widely spaced and uneven making it difficult to utilise standard reaction arms," says Bert Heinrich, Enerpac Territory Manager – Western Australia.
"The new sliding reaction arm is ideal for using to react the tool of a neighbouring bolt or nut head, especially where the centres vary. The black handle locks the socket position with a simple clockwise quarter turn of the hand. To unlock and slide again simply quarter turn anticlockwise by hand," he adds.
"A major benefit of this tool accessory is safety. The two sockets mounted on the sliding reaction arm engage with the bolt or nut heads, meaning there is no pinch point injury possible between the operator's hand and the tool or workpiece."
"The other main benefit is its infinite variability. It can be customised to suit different bolt centre lengths and centres, making the tool safer and more efficient in a huge range of applications."
The ETW has high-speed continuous rotation, which allows it to perform its tasks faster than manual methods. It is built with a low-friction planetary gearbox to minimise wear and extend uptime. The user can input a nominal torque value followed by a specific angle of rotation.
Enerpac Australia
02 8717 7200
www.enerpac.com.au