ELECTRIC PRESSURE CLEANERS ARE MADE FOR AUSTRALIAN CONDITIONS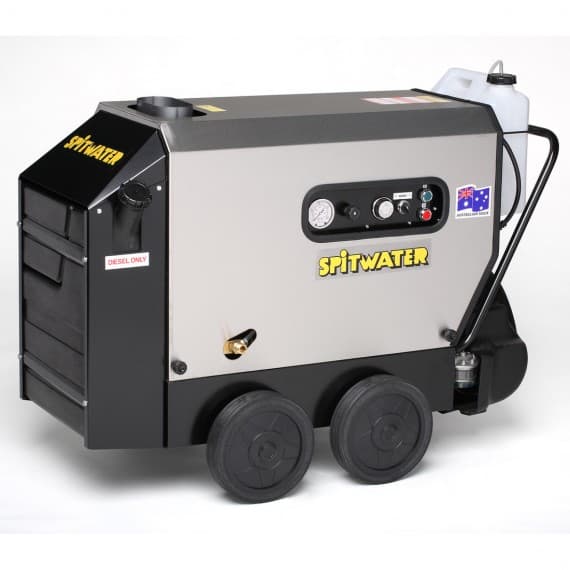 Tough cleaning tasks demand tough cleaning equipment, and the Spitwater range of industrial high-pressure cleaners are tough enough for the toughest cleaning jobs.
Designed and built at Spitwater's Albury manufacturing plant, these are Australian made machines for Australian conditions.
The top of the range Model SW2021 is a true heavy-duty industrial hot water cleaner capable of pumping out 21 litres of hot or cold water per minute at a massive 3000psi pressure.
The heart of the machine is the brass head pump with ceramic pistons direct-coupled to a powerful 10hp 20A 3-phase motor.
There's a water-cooling tank to stop the pump from overheating and four large solid wheels for easy manoeuvrability.
The heating element is also made by Spitwater. It uses a 45m-long seamless mild-steel (or optionally stainless steel) coil horizontally mounted for less sooting and longer life. And there's a 10 litre reservoir for detergent or degreaser.
The whole machine is solidly built, with a locally made zinc-annealed and powder-coated chassis and a stainless-steel cover, making it ideal for all manner of industrial applications.
Spitwater
1800 172 005
www.spitwater.com.au