ELECTRIC PALLET TRUCK IS SMALLER AND MORE ECONOMICAL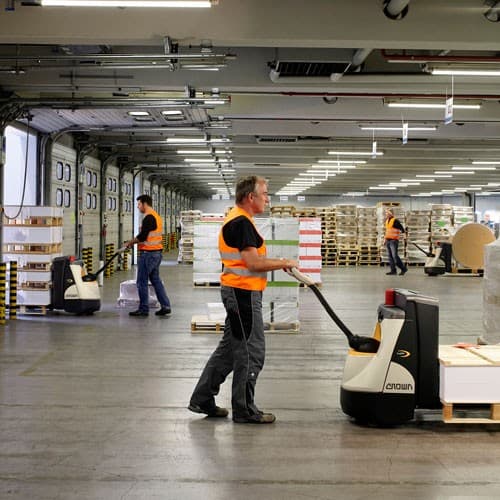 The latest electric pallet truck from Crown Equipment is billed as economical yet strong performing. The German-made WP 3010 Series shares the features of the Crown WP Series in a more compact and economically priced package and is now available Australia-wide.
The WP 3010 features an AC drive motor combined with a regenerative braking system to combine high performance with long battery life and maintenance-free braking.
The compact unit has a head length of just 500mm, fork length of up to 1150mm and a built-in charger. Its low mass of 279kg (without battery) makes it nimble and convenient, including back-of-truck work.
It has a load capacity of 1600kg, a heavy-duty gearbox, a robust helical gear set, an optimised steel structure and high-tensile steel forks.
The WP 3010 Series has the same cast aluminium Crown X-10 handle with easy-to-use-ergonomic controls used on the rest of the WP Series.
According to Craig Kenchington, Crown Equipment director of sales and marketing, the competitive pricing of the WP 3010 Series will appeal to a whole new market segment.
He says: "Crown has made a power pallet truck with compact dimensions, so it's ideal for moving and positioning loads quickly and safely in confined storage spaces. It means that you no longer need to sacrifice quality, longevity and ergonomics to have an affordable power pallet truck."
"This new model is perfectly at home doing kerbside deliveries, transport on truck beds as well as retail applications and even manufacturing environments," adds Kenchington.
Crown Equipment
1300 072 752
crown.com