ELECTRIC BLASTER COMBINES APPEARANCE AND PERFORMANCE
29-11-2018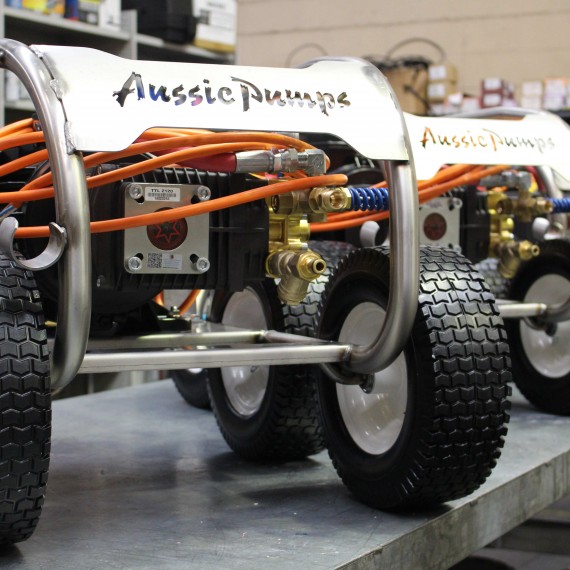 Australian Pump Industries is claiming a new benchmark for quality with the release of its layest stainless-steel heavy-duty industrial pressure cleaner. The 3000psi Super Scud 300, a powerful electric drive blaster, is the latest in the Australian designed and made Monsoon series.
It features a new ergonomic frame with no sharp edges, and is fitted with four big off-road style steel wheels with flat-free tyres. The company has moved to stainless steel to eliminate corrosion.
At the same time, its appearance and aesthetics are groundbreaking. Chief engineer John Hales said: "The new Super Scud looks as good as it works, and works as good as it looks. We've developed the product with features that ensure these Aussie built machines are world class. There isn't a European made unit that comes near it in terms of performance, quality or features. The Scud design frame eliminates sharp edges and that's a huge OH&S benefit."
With a 7.5kW three-phase, four-pole electric drive motor, it delivers a flow of 21 litres per minute, making it ideal for a range of industrial applications requiring fast, continuous cleaning, including wash bays and machinery wash-down.
The Super Scud 300 uses the TTL series 'Big Berty' Bertolini triplex pump with ceramic pistons, and incorporates a big ribbed crankcase that ensures it stays cool even in continuous run applications. The valve caps are fitted with a new Bertolini sealing system designed for higher pressure and longer working hours.
It is classified as Class A under the AS/NZS 4233.01 safety standards, which is a big advantage for users as those standards don't require operator certification for that class of machine.
Like all Aussie Pumps blasters, the Super Scud 300 features a safety protection kit including a thermal dump valve to protect it from excessive bypass. An industrial on/off thermal protection switch prevents overload of the motor and prevents pressure spikes.
High quality accessories complete the package. A heavy-duty gun/lance combination provides the operator with complete control with a trigger lock improving safety and preventing accidental activation.
Australian Pump Industries
02 9894 4144
aussiepumps.com.au