ELECTRIC AIRCRAFT TO BE MANUFACTURED IN ADELAIDE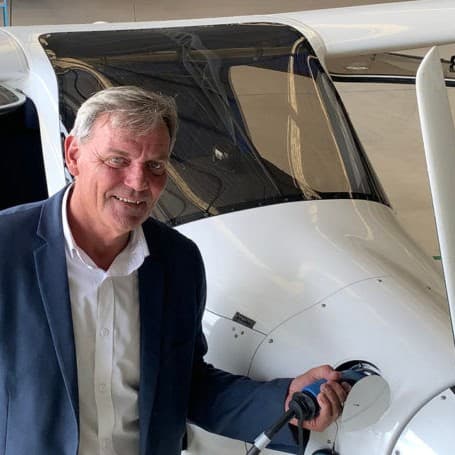 Barrie Rogers aims to build Australia's first electric planes in Adelaide
Adelaide-based company Eyre to There Aviation is aiming to become Australia's first manufacturer of electric aircraft after signing an agreement with Slovenian designer Pipistrel for its Alpha Electro model for the flight training market.
Eyre to There Aviation MD Barrie Rogers says his company will initially import 15 assembled aircraft with plans to establish an assembly line in Adelaide to manufacture up to 100 aircraft a year.
The first of the planes has arrived in Adelaide with its maiden South Australian flight taking place this month.
Rogers says that Australian aviation authorities have been quick to embrace the idea of electric aircraft: "Australia is currently the only country in the world that already certifies electric aircraft for training purposes, so we have an opportunity to be a world leader," he says.
"Electric aircraft are cheaper to buy, cheaper to run, are significantly quieter than conventional aircraft and don't rely on fossil fuels. And they are ideally suited for short range flight training activities."
While electric aircraft have traditionally been hampered by the heavy weight of the battery needed in each plane, Rogers reckons that technological advancements have reduced the battery size to a point where electric aircraft are now commercially viable in Australia.
"Electric aircraft don't yet have the range of other aircraft but they're perfect for short flights such as flight training and particularly circuit training, which is a core activity in obtaining a private pilot licence," he says.
The Pipistrel Alpha Electro has a 1 hour range with a 30-minute reserve. The 6.5m-long aircraft can climb at 1220ft/min and has a cruising speed of 157km/h.
There are an estimated 3400 training aircraft being used by flight schools in Australia and about 25 per cent of flight training covers the beginner phase involving circuit training for take-offs and landings with training close to airfields.
Interestingly, the average age of a small single engine aeroplane in Australia is 36.4 years with many nearing the end of their life span, leading Rogers to say: "We see a clear market opportunity to provide brand new, low-cost aircraft that have zero emissions."