ELECTION 2013 BRING IT ON
31-08-2010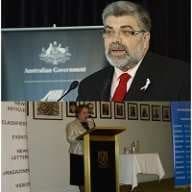 Election battle lines drawn for manufacturing showdown
Manufacturing has become a major issue in the lead-up to the federal election.
Both major parties have pledged support for the struggling manufacturing sector. And both sides have firm strategies in place to ensure this sector survives and prospers.
The Government's $1 billion Plan for Australian Jobs announced earlier this year has become a key plank in its election strategy.
And the Coalition's recent announcement to slash red tape by $1 billion a year, including the abolition of the carbon tax, is also designed to woo manufacturers.
Industry and Innovation Minister Senator Kim Carr has promised "a greater focus on teaching, engineering, science and research" if re-elected.
He will focus on programs to bring together centres of innovation at universities and research labs with factories.
Senator Carr, a passionate supporter of the car industry, says he will work closely with vehicle manufacturers to ensure Australia has a viable auto industry in the future.
His counterpart, Shadow Industry Minister Sophie Mirabella says the Coalition remains committed to revitalising the manufacturing sector.
"We believe an essential part of a diversified economy is to have a strong manufacturing sector," she says.
An Abbott Government would create a significantly improved economic environment for industry by slashing unnecessary costs and restoring business confidence.
"We want to create genuine incentives and opportunities for industry to grow."
At a recent PlastixANZ dinner in Melbourne, Ms Mirabella said the Coalition's main priorities would be to abolish the taxes now crippling industry and to cut red tape preventing major growth.
Ms Mirabella told plastics industry leaders and guests a Coalition government would better manage the economy to restore consumer and business confidence.
So what are the key differences between the major parties?
Labor and the Coalition agree the automotive sector needs Government support, but they have a different idea of how much support and how funding should be administered.
Under its Automotive Transformation Scheme, Labor would give the automotive industry $1.5 billion in cash payments from 2011 to 2015 and $1 billion from 2016 to 2020. The Coalition policy is to cut the ATS by $500 million, leaving $1 billion for the sector for 2011 to 2015 and the $1 billion in assistance would remain the same from 2016 to 2020.
A Coalition government would review these funding arrangements.
"The (car) industry is in crisis, Ms Mirabella says. "The Government's current policies have failed and failed miserably."
Allocating large sums of money to prop up the industry is not always the answer.
"There must a proper, detailed analysis to determine the current state of the industry, she says. "Having ad hoc policies and handouts is not a solution. The industry needs certainty and we will create a framework to provide it."
There is bipartisan support for strong anti-dumping measures to protect domestic industries from foreign companies exporting products to Australia at a price below the cost of manufacturing them.
The Coalition supported the Government's recent legislation to establish an Anti-Dumping Commissioner.
But Ms Mirabella foreshadowed a further strengthening of anti-dumping laws under a Coalition government.
The Coalition would cut the time and cost of anti-dumping applications and enforce Australian standards on imported goods.
But while both sides have strategically released key elements of their manufacturing policies, there are still many issues that remain unresolved.
For instance, the ALP has not indicated whether there will be a further tightening of tax concessions for research and development (R&D) by large companies. There is industry concern the R&D tax concessions will be targeted for savings by the Government looking to return the budget to surplus.
The Coalition has made it clear that if elected it will reverse cuts to R&D Tax Incentives for business with a turnover of over $20bn a year to create broader access.
The Coalition has also announced plans to slash company tax rates by 1.5 per cent for 750,000 companies within two years to help stimulate the economy.
In 2010, Labor promised a two percent cut in the corporate tax rate to 28 per cent. This was to be funded by the mining tax, but the returns to Government were well below initial estimates. The promise was subsequently abandoned by then treasurer Wayne Swan last year.
Industrial Relations policy also remains a contentious issue. The Coalition is expected to review new Fair Work laws that industry groups claim are slanted heavily against employers.
Both sides are pledging greater consultation with key industry groups.
Senator Carr says his first priority as Minister is to learn what he can from industry – the conditions, the challenges and the opportunities.
"I want to understand the problems, yes. But our business in this government is solutions, he says. "We have a window of opportunity here to build them."
Ms Mirabella is also committed to industry consultation.
A Coalition Government would consult regularly with industry representatives before formulating policy.
"You would be crazy not to listen to the people who are at the industry coalface," she said.
Senator Carr says the Government would work closely with business and workers to lift the annual productivity growth rate to 2 percent or better.
"Yes, the conditions are hard. But they have been hard before, Senator Carr said. "We ought be all the more determined to confront them."
Despite the gloom and doom, both sides remain optimistic about the future of manufacturing in Australia.
"The challenges are not insurmountable. But we have to act very quickly," says Ms Mirabella.
"The outcome of the forthcoming federal election will be vital in determining whether manufacturing will grow and flourish in Australia."
MANUFACTURING: WHERE THE PARTIES STAND
These are the key differences between the major parties on the big issues currently affecting the manufacturing sector:
| | | |
| --- | --- | --- |
| ISSUE | ALP | COALITION |
| Carbon tax | Move to an Emission Trading Scheme a year earlier than first planned. Will legislate to move from a fixed price to a floating price for carbon emissions. | Abolition of the carbon tax as a priority to reduce energy costs for small business |
| Anti-dumping                                                            | Introduced new anti-dumping laws and established an Anti-Dumping Commission. | Will amend current bill to further laws. Will enforce Australian standards on imported goods. |
| Auto industry | Auto industry to receive $1.5bn in cash payments from 2011 to 2015 and $1bn from 2016 to 2020 under the Automotive Transformation Scheme. (ATS) | The ATS to be cut by $500m, leaving $1bn for the sector for 2011 to 2015 and the $1bn in assistance would remain the same from 2016 to 2020. |
| Red tape & deregulation | Introduced new reforms aimed at reducing red tape for Australian business | Pledge to cut red tape by $1bn a year |
| Company tax | In 2010 promised a 2 percent cut to 28 per cent, to be funded by mining tax. Those plans have since been shelved. | To be cut by 1.5 percent for 750,000 businesses within two years. |
| R&D tax credits | New R&D tax incentive scheme provides a 45% refundable credit (equivalent to a 150% deduction) for eligible businesses with turnover less than $20m and a 40% non-refundable offset for larger firms. | Will reverse cuts to R&D Tax Incentives for business with a turnover of over $20bn a year to create broader access |
| Access to govt projects | Projects worth more than $500m must show they're giving Australian companies a chance to win contracts. Global companies with projects worth more than $2 billion will be obliged to involve Australian companies in their supply chain/contracting work. | Government departments and agencies to use tender procedures and procurement practices that actively encourage small business participation |
| Innovation Precincts | To develop 10 Industry Innovation Precincts where businesses will collaborate with researchers and academic bodies | Will abolish Industry Innovation Councils |