An efficient way to keep your cool
31-08-2010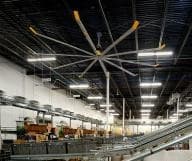 From inception to completion, all Big Ass Fans are designed, engineered, constructed, tested, re-tested, re-constructed, re-engineered and re-designed – until they get it right. 
Needless to say, they're not sitting on their asses.
Behind the funny name, Big Ass is serious when it comes to designing fans. 
With a talented, dedicated engineering team they are big fan experts.
Big Ass fans are designed and engineered to move large volumes of air in the most efficient, cost-effective way possible.
With more than 65,000 fans worldwide for a myriad of applications, Big Ass Fans has a solution for every air movement need.
The Powerfoil X2.0 Plus, 7.3m in diameter, features a patented aerofoil system, including 10 hybrid aerofoils and winglets that alters the direction of the airflow. 
The plus hybrid aerofoil creates deeper jets of air, moves air over and around obstructions resulting in more air over a significantly larger area than any fan on the market. 
This unique aerodynamic aerofoil and winglet design enhances both energy efficiency and airflow by eliminating turbulent airflow at the aerofoil tips.
DecoPac, an industry leader in the cake decorating business for over 90 years, is one of many Australian companies using Big Ass fans with outstanding results. 
DecoPac employees needed relief from the unbearable summer heat in the company's manufacturing and warehouse facility. 
With a mezzanine and numerous facility obstructions blocking airflow from the many small fans that cluttered the floor, Vice-President of Operations Kim Roy could not keep employees comfortable.
So the large, open kitting and assembly area was a perfect place for the Big Ass Fan Company's signature overhead fans. 
Three new Powerfoil X2.0 fans are mounted in the centre of the space, sending air to all corners.
DecoPac employees now enjoy a safer work environment with less noise and are more comfortable thanks to the multiple air turnovers each hour from their new fans. 
Big Ass Fans are designed to use minimal electrical input to move the maximum amount of air. 
This efficiency complements DecoPac's other energy-saving strategies and most importantly has resulted in increased productivity.
Big Ass Fans
Ph: 07 3292 0100