Efficiency the name of the game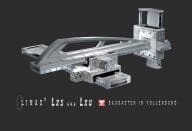 Highly efficient … new series Linax Lxs/Lxu from M Rutty & Co
Saving energy is a hot topic in the commercial and industrial sector. 
It all starts with the benefits to be gained.  
For example, if you want to move 100g with heavy duty drive mechanisms then it is an inefficient system even if you have 98 per cent in relation to set up. 
The unnecessary Acc. and Dcc. of an empty carriage weight will use up most of your energy. 
Space, weight and dimensions the basic parameters for maximum efficiency. 
In most modern factories these days you can see large automated machinery, where the moving parts of x, y and z platforms are kept at a minimum weight and this is the key factor for maximizing efficiency.
If you have an inefficient systems that take up most of your available space it will cost you time and money for inefficient slow moving heavy platforms. As a result you need large facilities, which will consume unnecessary resources. This has a direct impact on production and investment; costs are high and the final product expensive. 
With this in mind Jenny Science from M Rutty & Co has designed a linear drive system for precise co-ordination, light in weight, with pick and place units in small dimensions for the best impact in fast production. 
The result is smaller production facilities with high productivity.
The new series Linax Lxs/Lxu delivers full power in a confined space. 
One of the primary goals in developing the Linax linear motor is minimum space and weight requirements, these combinations are the basis for low resources with exhilarating dynamic performance.
With a peak trust of 180N and a carriage of just 960g and 130mm installation length are required plus our stroke length which is the new benchmark in terms of efficiency. 
This new generation of linear motors have practically the same space requirements with 50 per cent more performance.
The linear motors operate via magnetic forces directly in line with the linear movement. The advantages are obvious, long live no wear and no backlash the main advantage is that the axes can be combined with each modular system from Jenny Science.
The servo controller with the Nr 1 is the master and you only need to program the master.
This controller recognizes very fast and efficiently all the I/2C Bus slaves automatically for pick and place axes with rotary drives up to 4 axes can be controlled with one master ideally suited for pick and place application plus rotary drive. 
The system works autonomously you can start and stop the system directly via the digital I/Os.
M Rutty & Co
Ph: 02 9457 2222